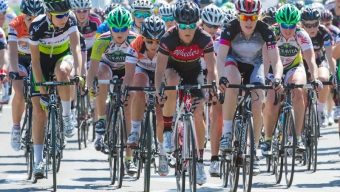 Marc DesRosiers – Front Page Media
The 2012 Gatineau Grand Prix proved to be quite challenging for the Canadians. The 132.34 km closed circuit elite race attracted international athletes and Olympic candidates, providing a top caliber event.
Canadian Tara Whitten from team Tibco – To The Top, pulled away from the pack early in the 13 lap race race. The chase that was to happen did not materialize and Whitten was left out in front with no support. The pace she held for the first six laps took its toll; Whitten was forced to drop back and retired three laps before the end of the race.
Team Specialized Lululemon's Clara Hughes, who won the Chrono Gatineau Time Trials on Saturday, maintained a good position at the front of the pack for most of the race but collided with Canadian National Team's Rhae Shaw coming into the final lap. Hughes managed an eight position finish. She was transported to the hospital for precautionary reasons to assess a sore back following the race.
On the final lap, the pack held strong with only a small group breaking away. The top four finishers crossed the line in the same second with Germany's Ina-Yoko Teutenber (Team Specialized Lululemon) finishing first, followed by Australian Rochelle Gilmore in second, and Ukrainian Alona Andruk finishing third. Joelle Numainville (Team Optum Kelly Benefits) was the top Canadian, finishing just off the podium in fourth. Numainvile worked hard in the last two laps to catch the leaders but the effort prevented her from pushing for a podium.
The top 10 finishers included two Canadians:
1 TEUTENBERG, Ina-Yoko SPECIALIZED LULULEMON 03:25:03 – GBR
2 GILMORE, Rochelle FAREN HONDA TEAM 03:25:03 00:00:00 – AUS
3 ANDRUK, Alona UKRAINE NATIONAL TEAM 03:25:03 00:00:00 – UKR
4 NUMAINVILLE, Joelle OPTUM KELLY BENEFITS 03:25:03 00:00:00 – CAN
5 SMALL, Carmen OPTUM KELLY BENEFITS 03:25:05 00:00:02 – USA
6 CHILCOTT, Kate VANDERKKITTEN FOCUS 03:25:05 00:00:02 – NZL
7 COOKE, Nicole FAREN HONDA TEAM 03:25:08 00:00:05 – GBR
8 HUGHES, Clara SPECIALIZED LULULEMON 03:25:08 00:00:05 – CAN
9 HURIKINO, Jasmin VANDERKKITTEN FOCUS 03:25:08 00:00:05 – AUS
10 STEVENS, Evelyn SPECIALIZED LULULEMON 03:25:17 00:00:14 – USA
Related Articles
Share
About Author
(0) Readers Comments