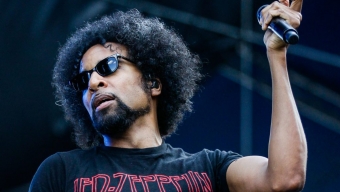 I only caught the last half of Alice In Chains on Sunday at Bluesfest, but half the show was enough to prove to me that even without lead singer Layne Staley, who died ten years ago, Alice In Chains is still Alice In Chains.   As I fought my way through the crowd toward the main stage, I felt transported back to the 90's Seattle grunge scene.  I was truly amazed by how authentic the new lead singer sounded, as they were one of my favourite bands growing up.  New frontman William DuVall joined the band in 2006 and I hadn't heard him perform until now.  Seeing a completely different guy performing songs I'd listened to since they came out, was somewhat surreal.   Jerry Cantrell, founding member, harmonizes many parts of the songs which contributes to bringing about the original sound, but still, it was impressive.
I arrived as "Down In A Hole" was playing, and the rest of the songs I heard were all classics with the exception of "Stone" which stayed true to the band's sound.  All too soon, DuVall shouted out "Let's give you one last song to sing along to!" and the opening bass riff of "Rooster" hammered out.   The crowd did as asked rocked out to this final tune.
This was Alice In Chains first performance in Ottawa since their heyday.  I hope to see them return soon and, of course, catch the entire show!
Related Articles
Share
About Author
(0) Readers Comments