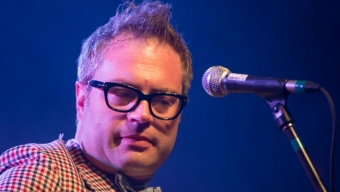 By Marc DesRosiers
Westfest continues to draw in the crowds. The mood on Saturday called for a celebration, and Westfest did not disappoint with the biggest night of the festival so far…
With Richmond road closed to traffic, merchants took the opportunity to open their doors and extend their facilities out onto the street, providing fine food, goods, and hospitality as families and friends made their way through Westboro. On the main stage, the evening of entertainment got underway early with the Haybirds hitting the stage playing folk/ rock, blending many styles to create their own unique sound. Fronted by three singers, their set was entertaining and, judging by the ever growing audience, they may just have earned a few more fans.
Amos the transparent and Liam Titcomb both have earned a reputation as great acts, and they did not disappoint this evening but the surprise of the evening was Peterborough's own Brock Stonefish. As a first time performer at Westfest, Brock played a mix of Blues, Rock, Reggae, and contemporary folk-roots. He may be new to Westfest but this was not his first stage performance; he has toured across North America and has previously opened for legends such as B.B. King. With a voice that is remarkable, and amazing guitar prowess; Brock Stonefish's music reaches to the core. He is currently working on his first album. Stay tuned, you may be hearing much more from Brock Stonefish!
Closing out the evening was Steven Page, formally of the Bare Naked Ladies, who gave an intimate performance, sharing his views about love, loss, and new beginnings through music, with his distinctive voice that had the crowd of 3200 singing and dancing late into the evening. Along with old favourites, he's shared some of his most recent work, featuring his first solo album Page One.
Related Articles
Share
About Author
(0) Readers Comments