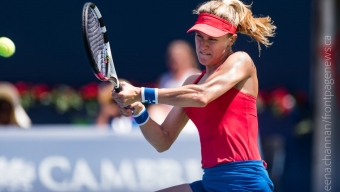 Day 2 of main draw – Eugenie Bouchard returned home to Canada for the Rogers Cup WTA tournament in Toronto, (Westmount, PQ being her home) with a WTA ranking of 70, playing Donna Vekic, a hard-hitting Croatian qualifier with a WTA ranking of 58.
Bouchard with a 2017 win/loss record of 12-15 hit the courts with hopes of going deep, solidifying her confidence and playing well in front of the Canadian crowd, who are always supportive of her.
Bouchard in a pre-match Media Conference stated that her mental side is an ongoing battle, always trying to keep her emotions under control and was happy to be home and happy to be the home country favourite.
Bouchards first match of the tournament began with Bouchard serving and quickly was broken coupled with a Vekic hold and went down 2-0 in games. Bouchard fought hard to hold serve but was plagued with too many unforced errors and was broken again to go down 3-0.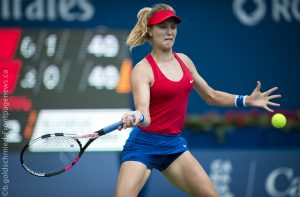 Vekic, served at 3-0 and Bouchard desperate to get on the board lost the first point but went on to break Vekic. Bouchard serving at 1-3 and down a break, lost her serve, down 2 breaks again, with Vekic serving at 4-1 as the pressure mounted for Bouchard.
On Vekic's serve Bouchard went up 40-love and finally breaks back. Bouchard served at 2-4 and showing more confidence held serve at love, making a mini comeback but still down one break. With a hold from Bouchard and a hold from Vekic, Bouchard served to stay in the set at 3-5 down a break. Both players fighting hard with huge groundstrokes, the game goes to deuce and after a see-saw battle with advantage to Bouchard and then to Vekic, Bouchard is finally broken and loses the first set 3-6.
The second set starts with Vekic serving. Bouchard takes her to deuce but loses the game and goes down 0-1. Bouchard needed to come out strong and confident in her game before the set slipped away. Bouchard did not have big pop in her serve as it was averaging 160 Kph allowing Vekic to tee off on her serves, especially her second serve. After a 10-minute game Bouchard finally held serve to even the match at 1-1.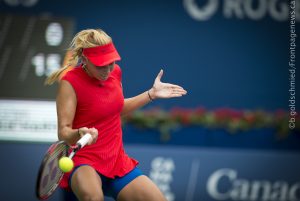 Vekic serving at 30-40 when after a long rally Bouchard smashed a forehand cross court winner to get the break of serve and go up 2-1.
At 30-love with Bouchard serving, she double-faulted and ended up going to deuce, at which point the game intensified for both players with Bouchard eventually double faulting again at ad-out and the game ending tied at 2-2.
The set went to 3-3 with Vekic and Bouchard both holding their respective serves.
The 7th game was a critical juncture in the set as the set was now tied at 3-3.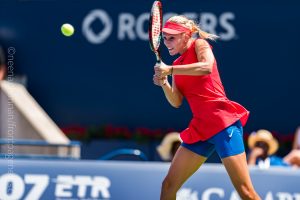 Bouchard saved a game point with Vekic serving at 40-30 but Vekic held on to go up 4-3 in games.
Bouchard served at 30-30 hitting a massive backhand cross court winner then served out to even the set at 4-4. Vekic served at 40-15 with Bouchard's unforced errors mounting, she held serve to go ahead 5-4 in games and forced Bouchard to hold serve to stay in the match. Bouchard lost 2 quick points and went down love 30, then to 15-40. She saved one match point but at 30-40 hit the ball long and Vekic pumped her fist in victory with a 6-3, 6-4 win over Bouchard.
This is the 10th time in the 2017 season so far that Eugenie Bouchard has been knocked out of a tournament in the first round.
In the end, Bouchard was 3 for 5 in break points of Vekic's serve and Vekic was 6 for 14 in break points against Bouchard's serve.
With a 2 ½ hour rest and time to mentally recover, Bouchard took to the courts again for her 1st round doubles match teamed with Kristyna Pliskova, the #1 ranked WTA player against Dominika Cibulkova of Slovakia and Kirsten Flipkins of Belgium, ranked 11 and 82 respectively, 2 experienced doubles player.
As they took to the court Bouchard seemed to have put her loss to Vekic behind her and looked ready to go, all smiles, appreciating the packed house.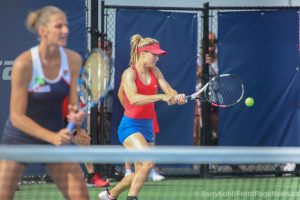 Bouchard played strong and gelled well with Pliskova as they seemed to complement each others' styles having great court coverage, playing well from the baseline with overpowering deep ground strokes and covering the net with volley winners keeping their opponents scrambling.  Up a break they served out to take the first set 6-4.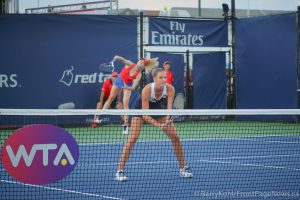 In the second set Bouchard and Pliskova took control of the match early went up 2 breaks, hitting groundstroke passing shots controlling the net and eventually taking the second set 6-2, giving them a match victory 6-4, 6-2 taking 1 hour and 7 minutes.
Bouchard's day went from not so great to ending on a high note with the win in the doubles match.  Canadians look forward to seeing more from her.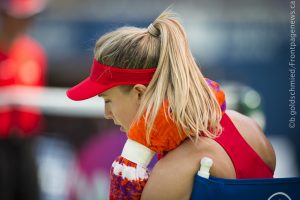 Barry Kohl
Have Camera Will Travel
Photo credit: Neena Channan, Brian Goldschmied, Barry Kohl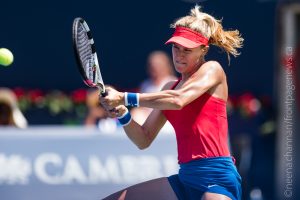 Related Articles
Share
About Author
(0) Readers Comments