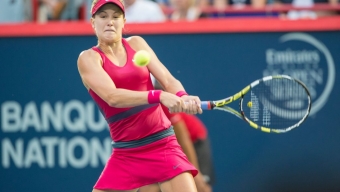 The early rounds of the WTA Premier series of tournaments (and the corresponding men's ATP Masters 1000 tournaments) can be an exciting and unpredictable time. More often than not, the highest-seeded players will move onto the later rounds with little drama, but sometimes, just sometimes, the combination of a motivated qualifier who has found her groove after four matches in the qualifying and main draws can lead to a stunning upset against a much higher-ranked seeded player who has received a bye into the second round.

Such was the case on Tuesday night in second-round action at the Rogers' Cup in Montreal, where 113-ranked Shelby Rogers of the United States defeated hometown favourite and fifth-seeded Eugenie Bouchard 6-0, 2-6, 6-0. Bouchard struggled out of the gate, unable to find her rhythm, and spraying shots wide, long, and into the net, unable to impose her usual dominant style of power tennis on her opponent.

Rogers, playing in her first Rogers' Cup, dominated the first set and sapped the energy from the centre court audience (she apologised afterwards for eliminating their hometown favourite during her on-court post-match interview). The eerie quiet was further punctuated by a power outage in that part of the city of Montreal which left the stadium with no scoreboard and no power for the microphones. Bouchard rallied and gave the crowd (including members of the Canadian chapter of the "Genie Army" something to cheer about, storming back to take the second set 6-2. The comeback was short-lived, unfortunately, as Bouchard seemingly ran out of gas and lost the third set just as quickly as the first 6-0.

In her post-interview press conference, Bouchard admitted to being the pressure of the Montreal court, and being a bit "match-rusty", having not played in the month since her Wimbledon final loss to Petra Kvitova. "But I knew this coming into the match, so I can't use that as excuses. But I'm happy I was able to at least prove to myself that I could turn things around and not let the match run away completely.  That's a positive from the match."

In the second Tuesday night match on centre court, eighth-seeded Victoria Azarenka of Belarus defeated Alizé Cornet of France (her country's top women's tennis player and ranked 22nd in the world) in a tough three set match lasting nearly two-and-a-half hours, 6-4, 2-6, 6-4.
Khoa Tran/ Front Page News
Related Articles
Share
About Author
(0) Readers Comments