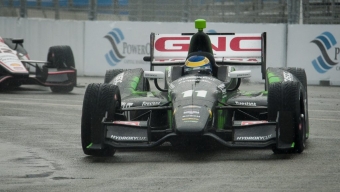 TORONTO, ON: DAY TWO of the double-header race weekend – IndyCar Series Highlights – Qualifiers (Toronto-1)
Qualifying for the Verizon P1 Award consisted of three segments. In Segment One, drivers are divided into two groups with each group receiving 10 minutes of track time. The fastest 6 cars from each group advance to Segment Two.
During Segment Two, the 12 advancing cars receive 10 minutes of track time. The fastest six advance to the Firestone Fast Six Shootout while the remaining 6 cars are ranked in positions 7-12 based on their fastest laps.
During the Firestone Fast Six, the fastest 6 cars receive 10 minutes of track time with a guarantee of five minutes of green flag time. At the end of the session, the cars are ranked 1-6 based on their fastest laps.
With overcast conditions, qualifying sessions for the Saturday morning Toronto-1 Verizon IndyCar Series took place on the 2.1 km street-circuit.  Winner of the Verizon P1 Award was Sebastien Bourdais (France) who set the fastest lap at 58.9479. His last win was in Mexico City in 2007. Will Power, Helio Castroneves, Ryan Hunter-Reay, Simon Pagenaud, Tony  Kanaan, followed with Pagenaud qualifying just under the mark after hitting the wall and damaging the left front suspension of his car.  Hinchcliffe, the local favorite placed 9th after the 2nd qualifying round, knocking him out of the P1 challenge. Bourdais picked up the pole by winning the P1 Award with a previous 31 wins overall and finishing 12th in 2013.
Apparently, Mother Nature wasn't given the press release for Saturday's  Race #1 of the Verizon Honda Indy Toronto Series as it was cancelled due to rain conditions and driver safety. Sunday morning's rescheduled race #1 would be based on Saturday's qualifiers. Race #2, in the afternoon would be based on overall points rather than qualifying rounds. A disappointing Saturday for fans and drivers as officials finally called the race shortly after 6:00pm.
Patricia Lever – Front Page News
Freelance writer/Mid-day announcer 101.9 DAWG-FM
Related Articles
Share
About Author
(1) Reader Comment