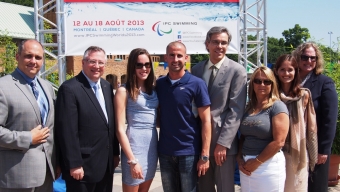 MONTREAL    The upcoming International Paralympic Comittee Swimming World Championships were announced today at a press conference at the event site at Parc Jean-Drapeau in Montréal. The event will be held from August 12 to 18 this summer, and will feature 500 atheletes from 56 countries.
MC'd by Camille Chai, today's presentation included speeches from dignitaries representing the City of Montreal, Parc Jean-Drapeau, Swimming Canada, the IPC, and the Canadian Paralympic Committee. In addition, two of Canada's paralympic swimming medalists from London 2012, Benoît Huot and Aurélie Rivard expressed their enthusiasm for the upcoming world championships being hosted in their own country. Huot is a highly-decorated nine-time paralympic gold medalist, and Rivard is a young emerging athlete and winner of the silver medal in the women's 400m freestyle at the London 2012 games.
The aquatic complex at Parc Jean-Drapeau is open to the public with recreational and competitive facilities. The site was host to the 2005 FINA World Aquatics Championships, and will also play host to the 2014 FINA World Masters Championships in 2014.
For more information about the IPC Swimming World Championships, please visit http://www.paralympic.org/Events/Montreal2013
Khoa Tran/ Front Page News Network
Related Articles
Share
About Author
(0) Readers Comments