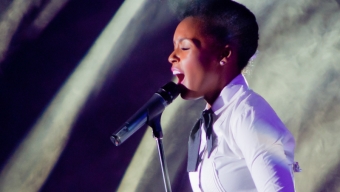 By Lenny Wu
Hailing from Kansa City, Janelle Monáe is an R&B/Soul musician with a growing level of influence in the music scene. From a car commercial for the Chevy Cruze to being featured with indie Pop band fun for the song 'We Are Young' there's no stopping her success.
Monáe made her first Ottawa appearance at the TD Ottawa Jazz Festival on June 23, 2012. The show started with a grand introduction with three druid-like characters walking on stage to the bewilderment of the audience; until Monáe emerged, sporting her trademark tuxedo outfit. The crowd, combining young and hip, as well as the more laid back patrons, enjoyed Monáe's performance. Her voice was stunning. There was a sense of Ella Fitzgerald in her, but there's was also an influence of Michael Jackson and Shirley Bassey as she sang covers to the Jackson 5 song, ABC and two James Bond songs 'You Only Live Twice' and 'Goldfinger'. Two songs that anyone would recognize are 'Cold War' and 'Tightrope', the latter being used as part of the Chevy Cruze commercial. As for 'Cold War', the music video basically shows her face and shoulder with great emotion.
Overall, the stage presentation was amazing, the lighting and sound impeccable. Monáe showed her painting skills during one of her songs, giving the message of "God is Love."
The crowd definitely had a great Saturday night experiencing the soulful and emotional voice of Janelle Monáe.
For anyone interested in her music, her website is http://jmonae.com/
Photo credit: Barrie Martelle
Related Articles
Share
About Author
(2) Readers Comments