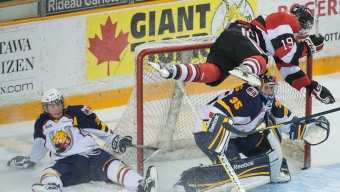 By Marc DesRosiers
The Ottawa 67s managed to stave off elimination by winning game 5 in the best of 7 against the Barrie Colts at the J. Benson Cartage centre in Ottawa. The Colts were leading the series 3-1 going in.
The 67s got the scoring underway at 7:47 in the second period with a power play goal by Cody Ceci. The Colts responded late in the period with a shot By Daniel Erlich that just managed to get past Petr Mrazek. Tyler Toffoli responded with his 9th goal of the playoff with only seconds left at the end of the second.
The third period offered a lot of turnovers, with the  67s ability to set up plays in front of the goal limited by a strong Colts defense.  A holding penalty to Marc Zanetti with 3 minutes remaining meant that the 67s we forced to hold their position.
Mathias Niederberger was named the second star of the game, letting in only 2 goals in this evening's assault by the 67s, with 45 shots on goal.
the 67s return to Barrie for game 6 on Sunday.
(Additional images from the game can be seen here)
Here is the game summary, courtesy of the CHL:
VISITORS: BARRIE
PLAYERS
Pos.
G
A
+/-
PIM
3
 Laser, Jonathan
D
0
0
0
0
4
 Lepkowski, Alex
D
0
0
+1
4
5
 Ekblad, Aaron
D
0
0
-1
0
8
 Hartwick, Derek
D
0
0
0
2
9
 Ezekiel, Norm
RW
0
0
-1
0
10
 Bell, Brendan
LW
0
0
-1
0
11
 MacDonald, Josh
LW
0
0
+1
0
13
 Klie, Mitchell
C
0
0
0
0
15
 Camara, Anthony
LW
0
0
0
0
16
 Telegin, Ivan
C
0
0
0
0
17
 Erlich, Daniel
LW
1
0
0
0
18
 Bradford, Erik
C
0
0
0
0
19
 Scheifele, Mark
C
0
1
+1
0
20
 Buonomo, Chris
D
0
0
+1
0
21
 Smoskowitz, Dylan
C
0
0
0
0
22
 Sutch, Gregg
RW
0
0
0
0
24
 Behenna, Colin
C
0
0
0
0
27
 McNeill, Reid
D
0
0
-1
0
TEAM
1
0
 Goalies
GA
Mins
SH
SVS
PIM
1
 Fotinos, Alex
–
–
–
–
–
35
 Niederberger, Mathias
2
60:00
45
43
0
Coach: Dale Hawerchuk
Manager: Jason Ford

HOME: OTTAWA
PLAYERS
Pos.
G
A
+/-
PIM
4
 Callaghan, Sean
D
0
0
0
0
6
 Shipley, Ryan
D
0
0
0
0
8
 Van Stralen, Ryan
LW
0
0
0
0
10
 Zanetti, Marc
D
0
1
0
4
12
 Cajkovsky, Michal
D
0
0
0
0
13
 Giftopoulos, Remy
LW
0
0
0
0
16
 Toffoli, Tyler
RW
1
1
0
2
17
 Janes, Steven
RW
0
0
0
0
18
 Prince, Shane
LW
0
0
0
0
19
 Graovac, Tyler
C
0
0
-1
0
20
 Monahan, Sean
C
0
2
+1
2
25
 Gustavsen, Brett
LW
0
0
0
2
27
 Cardwell, Jake
D
0
0
0
0
33
 Smith, Dalton
LW
0
0
0
2
36
 Fielding, Taylor
RW
0
0
0
0
37
 Foglia, Nicholas
C
0
0
0
0
39
 Cazzola, Mike
C
0
0
0
0
83
 Ceci, Cody
D
1
0
0
0
TEAM
2
0
 Goalies
GA
Mins
SH
SVS
PIM
1
 Mrazek, Petr
1
60:00
32
31
0
30
 Nishi, Michael
–
–
–
–
–
Coach: Chris Byrne
Manager: Chris Byrne

NOTE: Players listed in Italics are the starting lineup.

Penalties
2 – OTT S. Monahan, 0:59 – Hooking, 2 min (PP)
2 – OTT B. Gustavsen, 3:40 – Tripping, 2 min (PP)
2 – BAR D. Hartwick, 5:52 – Roughing, 2 min (PP)
2 – BAR A. Lepkowski, 14:20 – Inter. on Goaltender, 2 min (PP)
2 – OTT M. Zanetti, 14:45 – Slashing, 2 min (PP)
2 – OTT T. Toffoli, 15:40 – Inter. on Goaltender, 2 min (PP)
2 – BAR A. Lepkowski, 20:00 – Roughing, 2 min
2 – OTT D. Smith, 20:00 – Roughing, 2 min
3 – OTT M. Zanetti, 17:01 – Holding, 2 min (PP)

| | | | |
| --- | --- | --- | --- |
| | PP | PIM | PTS |
| Barrie Colts | 0 / 5 | 6 min / 3 inf | 1 G + 1 A = 2 Pts |
| Ottawa 67's | 1 / 2 | 12 min / 6 inf | 2 G + 4 A = 6 Pts |

Arena
Three Stars
Ice Officials
Off-Ice Officials
Ottawa Civic CentreAttendance: 5793
Start: 7:35 PM
End: 9:46 PM
Length: 2:11
1. OTT – 20 Sean Monahan
2. BAR – 35 Mathias Niederberger
3. OTT – 16 Tyler Toffoli
Jason Faist (5), Referee
Scott Hoberg (13), Referee
Eric Dagenais (42), Linesman
Mike Hamilton (86), Linesman
Simon Tomlinson, Online Scorekeeper
Chris Kelly, Timekeeper
Jeff Johnston, Video Goal Judge
Related Articles
Share
About Author
(1) Reader Comment