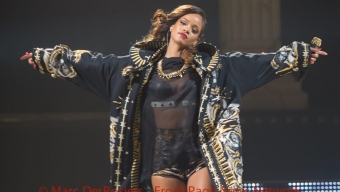 By Kelly McTavish
Thursday night, Rihanna rocked the house at Scotiabank Place in Ottawa on her Diamonds World Tour.  The 12,000 concert-goers waited half an hour past the scheduled start time for the performer to take the stage, and when she finally did, deafening screams from devout fans showed all was forgiven.  I learned from a reliable source that the reason for her tardiness was that she was watching the hockey game between Ottawa and Montreal, and had she mentioned that, the shrieks would have reached ear-splitting decibels.
The first half of the show gave me what I expected – high energy dance numbers, professionally choreographed and sung, songs which one typically hears on top 40 stations.  However, around the mid-point of the concert, her performances of Rock Star 101 and What Now, showed that that RiRi is more than just a pop diva, she also has the potential of a true rock and roll artist.  In bona fide rock form, no apologies or explanations were needed for keeping the fans waiting.  As it happened, I was sitting beside Rihanna's number one fans and their fervour was infectious.
Rihanna opened with Mother Mary, a soft solo number while wearing a long black robe.  This she threw off while she strutted her stuff in the ensuing bass-heavy songs, revealing a sheer top over high-waisted shorts, high black boots and gold accessories.  Her dancers, clad in what I would call a fusion of Egyptian and military influences, gave an energetic performance with Rihanna of Phresh Out the Runway, Birthday Cake and Pour it Up.  Talk That Talk brought out the best of her vocals thus far and my new young friends were going wild.  After party anthem Numb, it was time for a costume change and Extreme guitarist Nuno Bettencourt belted out an awesome guitar solo which, with the heavy bass, brought an edgy vitality to the show.
Reappearing with a black jersey and white thigh-high boots (she often provocatively slipped her hands down the front these boots while dancing), a more reggae style ensued, embracing her Caribbean roots.  This fun portion of the show with Man Down and No Love Allowed also brought images of RiRi posing for a mug shot, and later, video images of corruption, police and guns.  Things lightened up with Rude Boy and then finally she addressed the audience!  One beef I had with this concert so far was the lack of communicating to the audience… it's always nice to have more than a few brief shout-outs from the performer (I love you guys!!!), and it was almost nonexistent last night .
High energy followed this next costume change where she wore hot coloured tights in blocky pattern and a white, red and black latex-type bustier.  Rihanna turned up the heat with fan favourites Jump and Umbrella.  Next, came that rock and roll side of RiRi that I mentioned at the start.  Joan Jett was brought to mind with her vocals and guitar riffs reminiscent of The Who.  Followed by her version of a rock ballad with Def Leppard musical inferences, and pyro flash pots going off, I felt like I was at a real rock concert and the energy she put into these performances was genuine and full on passionate.
Rihanna embraced her feminine side later with a two-piece red dress performing Take a Bow which brought out the best of her vocals again, and then back to a dance anthem with Hate That I Love You.
Next, coming out in a glittery silver jacket which she took off revealing a matching baby-doll dress, she stepped down into the crowd and performed among her fans.  As the girls beside me screamed, "NO ONE DOES THAT!!!!!!"
Fun song Only Girl (another huge favourite with the entire arena singing along) was followed by Where Have You Been, a really amazing song that would be perfect at a rave.  I think at this point I caught a whiff of weed – no, I definitely did – and security was milling around with their noses in the air but I didn't see anything remarkable happen.  See!  Rock'n Roll RiRi!!
Finally for the encore, amid deafening screams, she appeared in a sparkly jumpsuit and everyone sang along to Stay.  Diamonds was the final song, a huge energetic and flashy number that to me seemed to be the perfect song to end the night.
I thoroughly enjoyed the show, and I look forward to her embracing her rock-side more often in the future.  My only quest ion is … why would you not let a room full of Senators fans know that you were late because you were watching the game, and that they had won???  Yeah, because I guess you just didn't have to.
Related Articles
Share
About Author
(1) Reader Comment