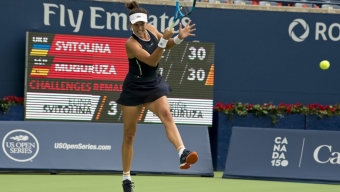 Day 5 of the main draw at the Rogers Cup quarter finals featured Karolina Pliskova (ranked 1) vs Caroline Wozniacki (6), Sloane Stephens vs Lucie Safarova (6), Elina Svitolina (5) vs Garbine Muguruza (4) and Caroline Garcia (21) vs Simona Halep (2).
Caroline Wozniacki vs Karolina Pliskova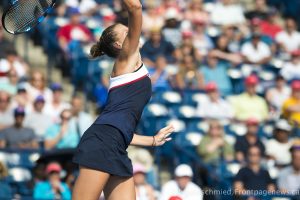 In a day plagued with rain delays, stops and starts, Caroline Wozniacki took to the courts in the first match of the day to face the world #1 ranked Karolina Pliskova. The fans were rewarded with a hard fought, epic battle, between the two players that lasted 2 hours and 58 minutes of playing time that took over 5 hours to complete due to rain delays as momentum shifted numerous times in the match.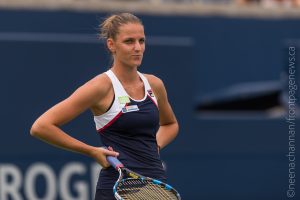 In the first set with Wozniacki down 5 games to 1, she mounted an epic comeback, keeping Pliskova on her heels, winning 6 straight games to take the first set 7-5.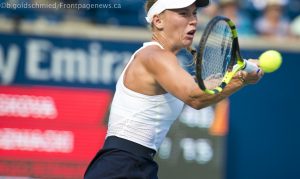 The second set was a neck to neck race with both players in control of their service games and unable to break the other, both played strong offence with deep blistering forehands and solid defence, then they needed a tie-break to decide the outcome as the set went to 6 all in games. Pliskova overcame Wozniacki's attacks to win the tie-break and take the second set 7-6.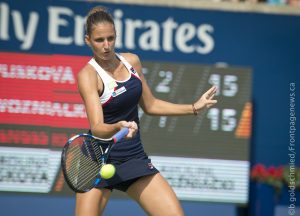 Now tied at one set all and the 3rd set well underway Pliskova takes a 4-2 lead in games and seemingly on her way to a win she hit a wall and the momentum  shifted into Wozniacki's favour who won three straight games.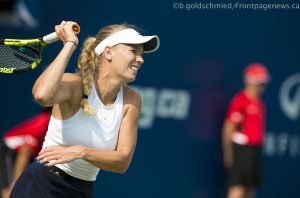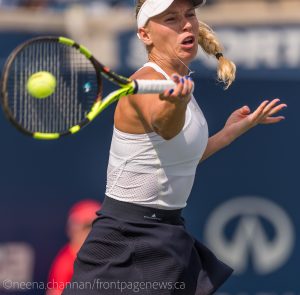 Pliskova served at 4 games to 5 and with the match on the line, was unable to hold serve as Wozniacki ousted the #1 player at 7-5, 6-7, 6-4, hitting 29 winners. This being the first time in her career that she has beat a World Ranked #1 player.
Sloane Stephens vs Lucie Safarova
The second match of the day, featured Sloane Stephens of the USA versus Lucie Safarova of the Czech Republic.  Stephens coming back from a lengthy injury and playing only her 3rd tournament of the 2017 season with 4 career WTA wins in the past, hit the courts against Lucie Safarova of the Czech Republic who is ranked #36 in the world with a win-loss record of 427-302.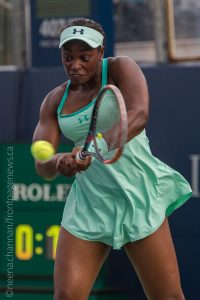 Stephens, an obvious crowd favorite came out swinging for the fences as Safarova's errors mounted.  With Stephens' confidence solid she quickly ran away with the first set, up 2 breaks for a 6 -2 win.
The second set was a complete reversal of fortune as momentum shifted in Safarova's favour and with complete control took the second set 6-1 with the match now tied at 1 set all.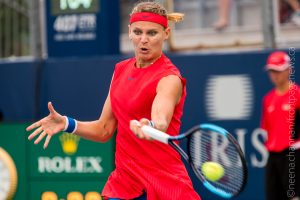 In a more evenly matched third set, Stephens and Safarova both played strong and focused, held serve and defended break points.  Then Stephens serving at 5-5 held her serve in a quick game and as Safarova served to stay in the match at 5-6 was broken at love by Stephens who won the match 6-2, 1-6, 7-5 and moved on to the semis to face Wozniacki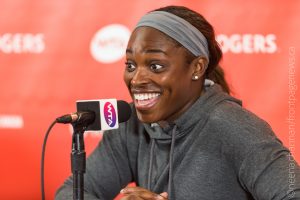 Elina Svitolina vs Garbine Muguruza
As the day continued and the rain continued to wreak havoc with scheduling, Elina Svitolina of Ukraine and Garbine Muguruza of Spain, completed the first set before a heavy downpour resulted in this match and the Caroline Garcia/Simona Halep matches being rescheduled to the Saturday morning.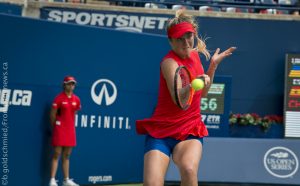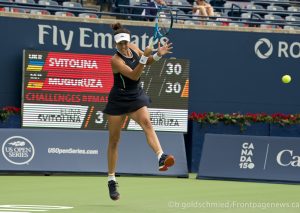 Garbine Muguruza and Elina Svitolina played toe to toe, shot for shot in the first set of their Rogers Cup quarter-final m
atch with Muguruza breaking to love midway taking the first set 6-4. With play being suspended due to thunder, lightning and a tornado watch, the match was held over to the next day.  Play resumed Saturday morning and Svitolina was in control with her speed and defence, taking the set 6-4, leveling the match at one set all.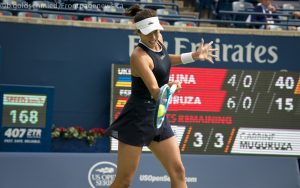 The third set, again a hard-fought battle but with Svitolina breaking the serve of the Wimbledon Champion, Muguruza, takes the third set and wins 4-6, 6-4, 6-3, paving the way to the semi-finals of the Rogers Cup.
Simona Halep vs Caroline Garcia
Simona Halep of Romania ranked #2 in the world with 15 career WTA titles and a win-loss record of 391-179 takes to the court against Caroline Garcia of France ranked # 21 in the world with 3 career singles titles and a win-loss record of 242-201.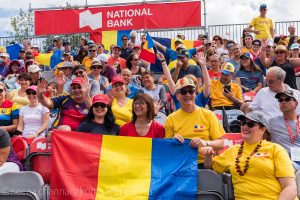 Saturday morning, this quarter final match finally takes place after an overnight rain delay.  With a sea of Romanian flags waving and fans chanting Simona Halep's name, for a minute I thought we were at a soccer game!   This promised to be a competitive and tight match with the fans cheering on all of Halep's winners and Garcia's errors. With the first set tied at 4 all, the crowd roared as Halep goes on to break Garcia and take a 5-4 lead in games and then quickly goes up 40-love, to take the first set 6-4.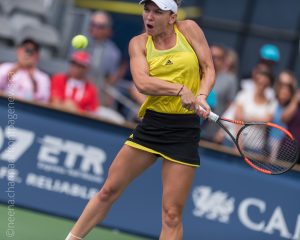 As the second set gets under way tied at 1-1 in games, Garcia serving at 15-40 serves up a double fault to go down 2 games to 1. Garcia now down 1-5 in games and the serve in her hands, goes up 40-15, executes a beautiful drop volley, holds her serve, saves the match but remains down 5 games to 2. With Halep serving for the match and up 40-30 serves out, forcing a Garcia error.  Halep has reserved her spot in the semi-finals with a 6-4, 6-2 win over Garcia.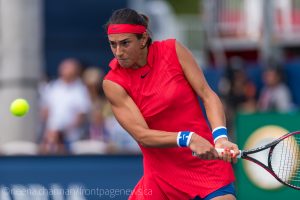 Barry Kohl
Photo Credits: Brian Goldschmied, Neena Channan
Related Articles
Share
About Author
(0) Readers Comments