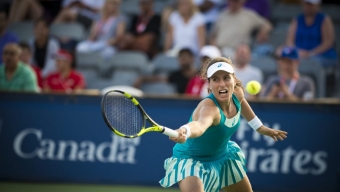 Day 3 of the main draw – Johanna Konta being a 3-time WTA title holder has climbed to 8 in her world WTA ranking thanks in part to a hugely successful 2016 season, with a career win-loss record of 278-171.
Her opponent Ekaterina Makarova holds a career win-loss record of 410-277 with 3 career WTA singles titles and a WTA ranking of 42.
As the match began with Konta serving, Makarova went on to an early 2-1 lead in games.
Konta serving at 1-3 down a break, and her nerves settling, went on to hold her serve bringing the match to 3-2 for Makarova.
Makarova serving and showing confidence with her first serve percentage, with hard and deep ground stroke, took a 40-15 lead in the game with momentum on her side holds serve for a 4-2 lead in games.
Konta under pressure to hold serve would have gone down 5-2 in games if broken, but serving at 30-30 double faulted and faced a break point.  She saves the break and goes on to win the game putting her at 3 games to 4.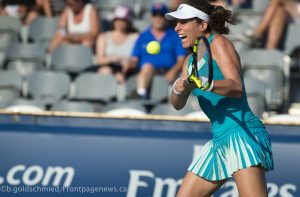 Both players at this point seemed well settled into the match but did Konta's hold of serve change the tide of the match?
With Makarova serving at 4 games to 3, Konta went up 40-0 on Makarova's serve and missed the net volley then hit a forehand into the net to give herself the break and 4 all in games.
Konta's serve goes up 40-0 with a beautiful net volley to the open court and took a 5 to 4 lead in games. Makarova, smashing forehands corner to corner had Konta running all out, but Konta returning balls with incredible defence earned her a hold of serve.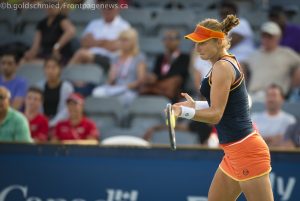 Makarova served to stay in the set came out hitting hard with no fear and went up 40-15 then hit a baseline wide angle forehand to even the set at 5 all.
Konta on her serve went down 0-30 but fought back to deuce and eventually held serve to take a 6-5 lead in games.
Makarova now needed to hold serve but quickly went down 0-40 then double faulted to give the set to Konta 7-5 with an obvious momentum shift that carried her deep into the second set.
Second set started with Konta serving and at 40-15 served up an ace to go up 1-0.  Makarova served at 2-1 and up a break of serve gave back the break and Konta was now serving at 2 all.
Konta going down 0-30 fought back and took her game with a cross court winner and a 3-2 lead in games.
Konta went on to secure a 5-2 lead in the games, one game away from the match.
Markova, serving 2-5 down and with a definite momentum swing in brew went on to level the match at 5 all winning 3 straight games and then holding her serve at 5-6 to force a tie break.
Markova serving at 6-4 in the tie break forced an error from Konta winning the tie break and taking the second set 7-6.
The third set began with both players holding at love, then going to 2 all then 3 all in games.  Both players playing strong, intense and focused with high quality tennis balls landing inches from the baseline, thrilling the fans with their shot making and court coverage.
At 3-games all and Makarova serving, she held serve easily, going up 4-3 in games.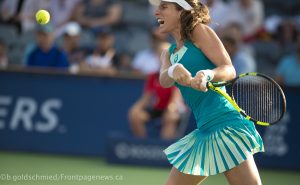 Now Konta serving at 3-4, and feeling the pressure, went down 0-40 and then with an unforced error gave Makarova the game, the break, a 5-3 lead in games, and the opportunity to serve for the match, which she did.  Serving at 40-30 forcing an error, pumped her fist and won a hard-fought battle that at any time could have gone either way.  Winning 5-7, 7-6, 6-3.
Konta will have to dig deep and find answers as to why she was unable to close the match winning the 1st set then being up 5-2 in the second, which she eventually lost in a tiebreak.
Barry Kohl
Photo Credit: Brian Goldshmied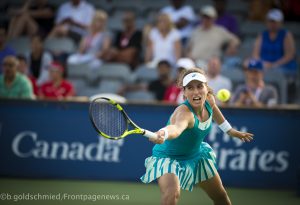 Related Articles
Share
About Author
(0) Readers Comments