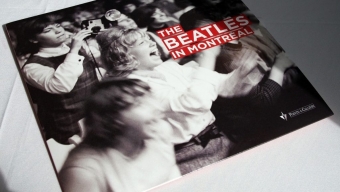 At the Pointe-à-Callière Museum of History and Archaeology from March 29 2013 to March 30 2014
By Khoa Tran
Despite being arguably the biggest and most influential band in the history of rock and popular music, the Beatles didn't actually last very long as a band. While we're used to seeing bands from the 60s, 70s, and 80s still kicking around, touring, and producing new music today, it's in some ways surprising that the undeniable and indelible mark that the Beatles left on music was done in less than a decade. The biggest-selling band of all time came and went in a blinding flash which still has a palpable resonance today and will likely do so for many years to come.
In a strange sort of parallel, the Beatles left their own unmistakable mark on the city of Montreal and on the province of Quebec during their very brief visit in September of 1964, where the band came, played two shows at the Montreal Forum, and then promptly left, all in a span of about twelve hours. In 1964, both the Beatles and Montréal were very much on top of the world (Montréal was Canada's largest and most important city, and would, in just three years' time, host the Expo '67 world's fair).
As part of the celebrations marking the 50th anniversary of the Beatles' arrival in North America, the Pointe-à-Callière Montréal Museum of History and Archaeology opens its new Maison-des-Marins pavilion with a year-long exhibit devoted to the band's visit to the city on September 8, 1964 at the height of Beatlemania, where:
a combined 21,500-23,000 people attended the two concerts
400 police officers and 200 first aiders were present (including four decoy officers wearing Beatles wigs riding in a decoy limousine)
5 ambulances were waiting outside
100 teenage girls required cold compresses
12 cases of hysteria, cuts, and bruises were reported
and 1 police officer was treated for a bitten thumb1
The exhibit gathers Beatles and Beatles-era artifacts from a number of private and public donors, from John Lennon's very own 1965 Rolls-Royce Phantom V (which started its life out flat black but was repainted to suit Lennon's psychedelic leanings), a number of replica guitars, authentic jackets worn by the road crew for that first North American Beatles tour, to paraphernalia ranging from a snare drum emblazoned with the likeness of Ringo Starr, to an "official" and "authentic" Beatles wig (I am seriously not kidding about this last one).
Other artifacts include: record players, radios, televisions, and a cotton polka-dot dress from the Beatlemania era. Newspaper clippings and videos also feature in the exhibit; the audience is invited to become "the fifth member" of the band and sing along to footage from the historic Ed Sullivan show television appearance in February of 1964.
A section of the exhibit is also devoted to the numerous "yé-yé" bands which emerged in Québec in the mid-to-late 1960s which were heavily influenced by the Beatles, including Bel-Air, Les Baronets, and Les Bel Canto. There is also an interesting anecdote of how a copy of Sgt Peppers Lonely Hearts Club Band was smuggled into Canada by an airline stewardess and was played at the Youth Pavilion at Expo '67 before the album's actual North American début.
The Beatles never did return to Montréal as a group (of course, John Lennon and Yoko Ono would host their famous bed-in for "Give Peace a Chance" at the Queen Elizabeth Hotel René-Levesque Boulevard after the band's dissolution), but the few hours they did spend in the city embody and encapsulate the spirit and the culture of a very important time gone by, but never to be forgotten.
For more information, please visit: http://pacmusee.qc.ca/en/exhibitions/the-beatles-in-montreal-50-years-later
1From the Beatles in Montreal "Souvenir LP Book"
Related Articles
Share
About Author
(0) Readers Comments