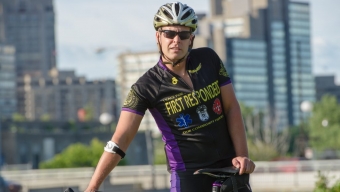 It was supposed to be a routine Saturday morning solo 80 km training ride on a sunny day in May of 2010 on River Road, just south of Baton Rouge, Louisiana.  It was a ride Mike Bitton had done hundreds of time without incident – 45 minutes in, his life changed forever.
At around 7:15 a.m., he was struck by a truck.  By 7:30 a.m., he was found by a group of cyclists with his bike lying 40 feet away, and parts from the truck another 60 feet away.  Cyclists and paramedics thought him dead.  The truck and driver were nowhere in sight.  What follows is a tale of never-faltering perseverance and an example of the power of forgiveness.
Mike was born 37 years ago in Listowel, a small town north of Waterloo, always active and trying any sports and outdoor activities that he could.   A B.Sc. graduate of Wilfrid Laurier University, he moved to Ottawa to pursue his B.Ed., and continued his academic studies at Louisiana State University for his Ph.D in Physical Geography.
His restless spirit soon grew distracted by academics, and he threw himself into establishing the LSU triathlon and cycling clubs.  Neither sport was NCAA-approved, so there was no funding for team uniforms, with coaching and training being on their own time – a fly-by-your-seat enterprise; however, both teams managed to send people to regional and national championships every  year.  And it was training for a race to make these championships that changed everything for Mike.
The extent of Mike's injuries attest to the fact that he shouldn't have survived – among some of the most severe:  split sternum (he was lucky it missed his aorta), 12 broken ribs, 7 broken vertebrae (4 of them shattered), collapsed and bleeding lungs, brain bleeds, separated shoulders, and removal of his right glute.
In and out of an induced coma over the course of three days, he lost a total of 18 units of blood (our bodies hold 10).  The prognosis was not hopeful – painful to sit, stand or walk, he was bedridden with muscle atrophy settling in.  A loss of appetite meant a loss of weight he could ill-afford, and the delivery of the worst news he could've imagined – two to three years, at best, before he could even think of getting back on a bike.
Funny now is Mike's recollection of the discharge notes when he was cleared for medical transport out of Baton Rouge General to Canadian hospitals – they attributed signs of OCD, ADHD, a high level of irritability and short-temperedness to the brain injuries he had sustained.  His family disagreed, indicating he had been all those things prior to the accident.  A speech pathologist had also been recommended for what turned out to be Mike's Canadian "accent".
Life as he had known it changed dramatically.  Used to a wide network and active social life, he missed seeing and socializing with his LSU friends.  He was entirely dependent on his family to make even the simplest of meals.  And his physiotherapist grew to become his coach, his psychologist and his trainer – doing everything from addressing back issues, to retraining Mike to walk properly, finding tricks for running differently, fixing nagging shoulder issues, and figuring out how to make the new glute fire.
After seeing therapeutic hospital dogs in action, Mike's parents bought him a puppy to cheer his spirits.  "The Bear" did that and much more, giving Mike a reason to start being active again.  Milestones were small yet significant – 3 months after the accident, he was able to do a 10-minute walk without support of a walker and decided he wanted to complete an Ironman;  6 months after the accident, he was able to swim 25 meters, this time declaring that he was going to complete an Ironman.  Eight months after the accident, the hard bone fragments that were loose around his spine had softened, and were no longer a threat to his spinal cord, allowing him to get back on a bike.  By early February, nine months after the accident, he was able to run (or "shuffle" as he calls it) – barely lifting his feet and coming to the hard realization his body was not yet ready to absorb any impact.  A major milestone was when he entered a BMX bike race for younger kids – while it was far below the competitive level he was used to, it was a major accomplishment that brought him one step closer to achieving his dream of completing an Ironman competition.
Through it all, his mantra continued to be "No dream is ever too small; no dream is ever too big" from his hero, Terry Fox.
While he had medical insurance, it was capped at 100K which he burned though in those first critical 24 hours due to the phalanx of specialists attending to him.  On the hook for a few hundred thousand dollars, he was able to get the maximum 25K from the truck driver's insurance coverage, and then in what was a confusing but supported move, sued his parent's insurance company as a dependent to pay for the rest of his medical bills.
As for the driver of the truck – he fled the scene of the accident, but Louisiana police were able to trace the owner of the truck, through the strewn parts left behind, within 2 hours.   It turns out it wasn't the owner of the truck that had been behind the wheel, but his friend who claimed he had hit a concrete barrier.  Twenty-four hours after a state-wide warrant was issued for his arrest, officials tracked down the driver at his home.  Because he was able to evade the authorities for so long, they were unable to test for alcohol or drugs, but he was charged with leaving the scene of an accident.  In a rare move, he was sentenced to 5 years (rare, because jails in Louisiana are overpopulated and there is a backlog in the justice system).   Only a few months later, he came up for parole.
While the District Attorney could have appealed the parole on Mike's behalf, Mike wanted to put the incident behind him.  In his mind, whether or not the driver was behind bars was neither good nor bad – this man needed to work to support a family.  Given he had a previous DUI, Mike's victim impact statement was centered around what would be best for the people of the State of Louisiana and urged that the driver never be allowed to drive again.  
Despite the never-ending frustrations – the huge debt load, the never-ending communications with lawyers, insurance companies and collection agencies – Mike never thought "why me?".  But he did struggle to understand his mom when she said that "good" had come from the accident – that he was alive, with his family and not brain-dead.  So, he decided to add his own brand of "good" – a good that he could understand.
Mike decided to use his "15 minutes of fame" to do good in his community and raise awareness around bicycle safety.  And with that came a positive mindset, forgiveness and the ability to let go and move on with his life.  Ever indebted to the first responders who helped him in those crucial first hours of his accident, he organized a race in honour of the everyday heroes we all have in our communities, and now has a blood drive named in his honour as a nod to the blood drive that kept him alive and which he credits to saving his life.  He's also bringing his story to area schools to raise awareness around bike safety for the younger generations.
There remain daily reminders of the accident – slight movement delays on his left side, a number of muscular imbalances, a sore back every day, sleepless nights that he deems make him "perma-tired", but he's retraining all of that back and has re-taught himself to type and to play guitar.
And that Ironman?  Through sheer perseverance, an ability to let go, and an unwavering focus on the promise he made to himself, he completed that Ironman race only 18 months after his life-altering accident – a 4 km swim, a 180 km bike ride, and a 42.2 km run.  "Despite everyone saying I couldn't or shouldn't try it, I did it", says Mike. And as he often does, he quotes Terry Fox as his guiding inspiration:  "I just wish people would realize that anything is possible if you try.  Dreams are made if people try."
Always reinventing himself, he has launched an at-home personal training business, is getting used to his new hometown and is busy exploring safer bike routes in Ottawa.  For more on Mike Bitton, please visit mikebitton.com.
Nina Ianni-Alice
Related Articles
Share
About Author
(0) Readers Comments