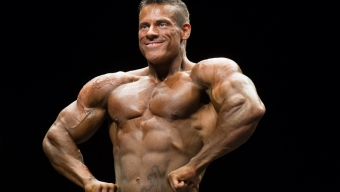 The GNC Ottawa Championships provides a competitive platform for a number of male and female bodybuilding and fitness categories including bodybuilding, physique, figure, bikini and fitness.The event is governed by the Ontario Physique Association (OPA), the province's governing body  recognized nationally by the CBBF and internationally by the IFBB. The annual event filled the CEGEP de L'Outaouais auditorium to capacity on Saturday.
Following months of intense training, strict dieting, and the goal of physical perfection; 175 competitors signed up for the GNC Ottawa Championships, with the hope of  obtaining one of the coveted awards. Along with the title, coves the opportunity to advance to the next level, with 5 positions in each category eligible to compete at the GNC |Ontario Provincials.
The commitment to training and preparation was evident last night, making the judges' decision difficult, none more than the men's overall class with Frank Anderson, Tyler Brennan and Roberto Lagana vying for the top honours. In the end, the decision went to Lagana. The bikini category was won by Jordan Ealdama. The Physique categories were won by Josh Wunderlich (Men's)  and Myriam Paquin (Women's) respectively. Tthe women's figure award went to Sophie Hoang in another hotly contested category with Johanna Stavrakaki and Niveana Garrah providing a strong challenge.
Additional images available for Editorial purposes at the following link:
http://frontpage.zoomphoto.ca/event/17598/
Individuals interested in purchasing images for personal use may contact our sales team at sales@frontpagenews.ca
Related Articles
Share
About Author
(1) Reader Comment