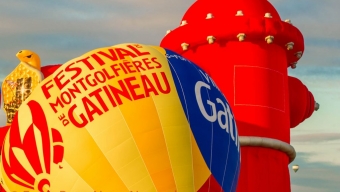 The Festival de Montgolfieres de Gatineau's 26th edition was a great success with many successful launches due to favorable weather conditions.
The outlook going into the weekend did not look good with a forecast of rain and thunderstorms throughout the weekend. Friday evening's launch had to be canceled due to a storm front that came through.
Despite a setback prior to the first launch and with more rain throughout the evening and overnight; the weather turned on Saturday morning as the pilots were greeted to sunny, although damp, conditions. The decision to launch was determined and everyone was eager to see the crafts take to the air.
With 26 years under their belt, the Festival de Mongolfieres de Gatineau (FMG) has evolved to become one of the premier events of the hot air ballooning festivals, attracting pilots across North America, with Europe and Brazil also represented with original designs.
The first demonstration of flight in a balloon by brothers Joseph et Étienne Montgolfier dates back to June 4th 1873, The inaugural manned flight on November 21st, 1783 first by Etienne Mongolfiere was followed by Jean Pilâtre de Rozier and the marquis of Arlandes, François Laurent in the first free flight by a hot air balloon.
Since this time, there has been an ever increasing interest in this form of flight which depend on the wind for transportation. The first Atlantic crossing was completed in 1978. The first Pacific crossing was achieved 3 years later in 1981. In 1999 the first around the world flight was completed by Bertrand Piccard and Brian Jones.
Today's craft is much evolved from the silk, cotton, and paper construction of the past, making use of lightweight reinforced nylon and Dacron. They are used for commercial, corporate, and advertising purposes, as well as for sport, with many competitive events related to speed and duration. The shapes have also evolved from the basic sphere to create original designs to minimize stress, improve performance, or simply to create an interesting design for attraction purposes. Of these, the latter is what can be seen at most festivals, including the Festival de Montgolfieres de Gatineau.
This year's event did not disappoint the spectators who got to see multiple launches, an evening night glow session on Sunday night along with all the additional entertainment that the festival has to offer; including fireworks, evening concerts, and a daily roster of events to entertain throughout the day.
The FMG has something for everyone, young and old. It is much more that just about the hot air balloons taking off but let me assure you that once you see these majestic crafts take to the air, you will be hooked. If you have not been here yet, you should start planning for next year…
[Click images to see larger version]
Related Articles
Share
About Author
(0) Readers Comments