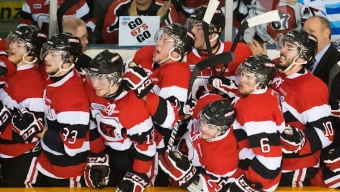 By Marc DesRosiers
Last Friday, the Ottawa 67s where behind three games to one in the OHL Eastern Conference semi-finals. With a game at home and a crowd of 5793 fans behind them, the team persevered and won with what was described as their hardest effort of the year. This was just one more win for the 67s; they would need to keep fighting (and winning) if they wanted to keep their season going.  Game 6 was scheduled for Sunday night in Barrie. With grit and determination the 67s fought and won, tying the series 3-3. Determining who would move forward was to be decided in game 7 at the J. Benson Cartage Centre in Ottawa on Tuesday April 17th. The 67s were back at home once again; this time 6495 fans came out to support their team.
The Colts were first to score with a shot from Gregg Sutch early in the first. The 67s responded with a goal by Dalton Smith midway through the second. The final confrontation was now set; the last period of the last game in a series of seven was to determine who would win this hard fought battle. The third period was one of the most intense of the year.The 67s pushed hard and managed 12 shots on goal against the Colts' 8, tying the game 2-2 midway through the third. The score remained tied at two with Barrie's goalie Mathias Niederberger resisting any further advances by the 67s up to the last minute of play. At 19:35, with the 67s on a power play following a call for too many men on the ice by the Colts, Sean Monahan managed to get the puck past Niederberger with the assistance of Shane Prince and Tyler Toffoli. The 67s bench was ecstatic but with less than a minute left in the game, celebrations would have to wait… With 8 seconds left, Matt Scheifele from the Colts scored to tie the game 3-3. Not even the last period in the last game in a series of seven was enough to settle the score between these two teams. Finally at 2:09 in overtime, Brett Gustavsen put an end to the long and strenuous battle. Gustavsen was named the 3rd star of the game. The Colts' Mathias Niederberger was named the second star, stopping 36 of the 40 shots on goal. The game's first star went to Ottawa's Tyler Graovac.
The 67s will now play against the Niagara Ice Dogs for the Eastern Conference championship with the first game scheduled for this coming Friday.  The next home game is  schedule for Monday April 23rd.
Related Articles
Share
About Author
(0) Readers Comments