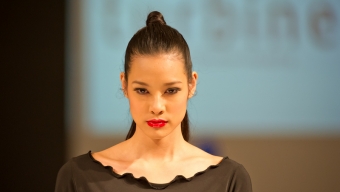 By Chloe Barker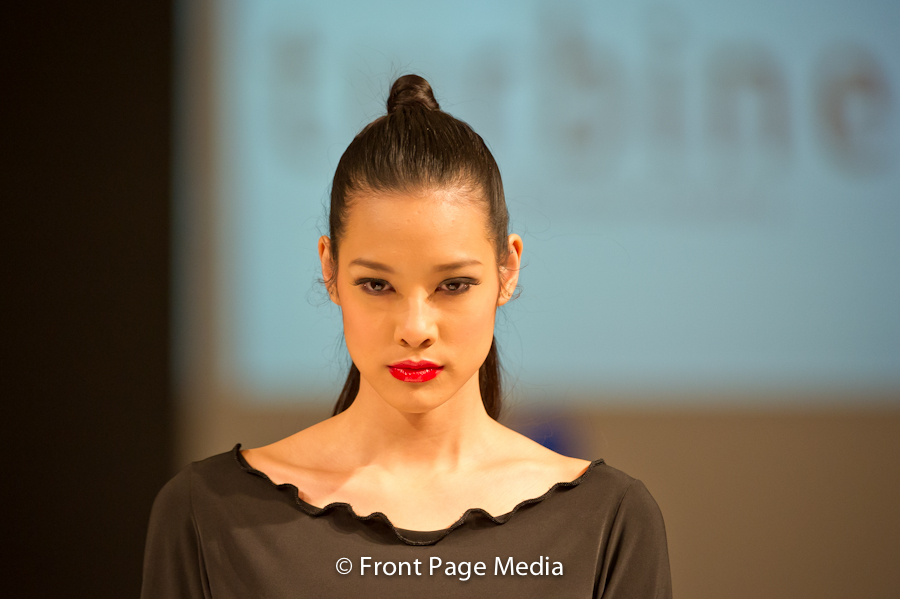 At first glance, the lobby of the Ottawa Westin seemed unseasonably quiet. Thankfully, a trip up to the fourth floor all but smashed the facade of tranquility. Ottawa Fashion Week's Fall/Winter 2012 show was well under way Friday February 17, evident from the endless movement of photographers, models, volunteers and spectators.
The three day ode to style is still going strong after six seasons. This year, audience members were promised lots of diversity to keep things fresh, according to executive producer Hussein Rashid. "Our main focus is variety. You'll notice that between the days you'll see a [jump] between extreme haute couture to all the way, ready to wear." Explained Rashid, "We know the…different consumers and different media and buyers that come to our event, and we want to appeal to as much of it as possible".
The importance of variety is a perfect fit for Ottawa, the capital city that has come to represent Canada's image as a 'cultural mosaic'. Truly, all 18 shows exhibited a    unique vision specific to each designer, resulting in a myriad of garments that were entirely different from one another. This fashion week managed to incorporated every era, texture, fabric and pattern imaginable, without seeming overwhelming.
Friday opened up strong, with collections from Elena Hinke, Amanda Emmanuel, Isobel Walker, Vickie Joseph, Illyria Pestich and Andy Nguyen. Each collection, though different from one another, set OFW off to a daring start.
Amanda Emmanuel's show gave the crowd neon bright colors paired with brilliant design, culminating together in dresses that were modern and edgy. Emmanuel, known for her futuristic view of fashion, delivered contemporary design that never skimped on precise, perfect tailoring.
Isobel Walker wowed the audience with spiky headdresses, tribal inspired front-tie skirts and gold jewelry. Later, Y!D.N.A managed to push the envelope even further with a collection that would make Lady Gaga blush: morph suits, ripped tights, full body paint, leather and studded gas masks told the audience that Ottawa is not afraid to take fashion extremely seriously.
This is a sentiment mirrored by Rashid, "[Ottawa] is a backdrop to this industry that I think many cities can not match. In the years to come, I think people are going to see how we have hosted the event at a lot of landmarks that other places in the world  are envious for. That's what we're trying to show, we're trying to…expose the world to this creative avenue for expression."
Saturday night opened up with Tribal Sportswear, the 36 year old brand that produces affordable, chic clothing for the modern woman. A chromatic palette with pops of red, pink and orange gave off a business casual feel that could easily be dressed up or down. The outerwear in this collection was the highlight. A white motorcycle jacket  with leopard print lining and a bright orange coat that was perfect for fall top the list of desirables.
DeMOYO came next, the creative outlet for Zimbabwe born, Sweden, London and Paris raised  Chideya Paidemoyo. This line was obviously influenced by Paidemoyo's extensive globe trotting, exemplified in the African-inspired white knit, floor length dress and a navy satin jumpsuit that seemed to be plucked straight from the streets of Paris. With family members present in the front row, waving a small Zimbabwe flag, it was a sentimental show.
The Jana & Emilia Fashion Design Studio delivered haute couture, ultra feminine glamour by the way of a vintage inspired collection. With classic silhouettes, plenty of hats, velvet, lace and drama, the crowd was blown away by the pair's elegant, one-of-a-kind creations. The beauty was in the details, with fur trimmed hemlines and a stiff, Elizabethan collar indicating the duo's dedication to reviving historical trends.
ElizBourk's collection was notable for it's use of ultra-wearable pieces that managed to be both classic and trendy. Aztec print leggings, dress coats, patterned tunics and more made this writer want to build herself a bigger closet. This desire to wear what you see on the runway is all part of the experience, claims Rashid, but it is not just about the commercial aspect of the industry, it is also about education. "There are things that I match and things that I purchase that I would not even think of buying until I meet some of the designers." Rashid continues, "That's all being a part of this event and being exposed to it, right? You learn these things.
Finally that night the 1950's made a comeback with Rachel Sin's collection of peplum shirts, nipped waists, pencil skirts and sweetheart necklines. The delicious color palate here was creme, peach, tan and black.
Ella Peru by Su-Hui Chu was a delight on Sunday. The collection was inspired by  the designer's new home. "I just moved to Toronto," explained Chu "so this new collection…I called it Euclid & Ulster which are two streets in my new neighborhood, the South Annex of Toronto. [It has] super beautiful, tall victorian homes…the vintage in it came from that".
This beautiful collection contained pieces named after icons of the 1920's, such as 'The Virginia Top' and 'The Woolf Skirt'. A color palette of salmon, sandstone, midnight blue and cabernet left the audience vying for fall to come quickly this year. Buyers can also take pride in knowing that Chu is working to make her industry more open to new comers. "I help a lot of young designers, I take a lot of interns in." Added Chu, "Because  in my opinion…if I'm supporting young designers, I'm helping my industry grow."
Arguably the most intense collection was by Helmer Joseph, the Montreal native who stunned on-lookers with his gorgeous haute couture creations. The crowning moment of this show was when the music was stopped to allow the gentle tinkling of a pencil skirt that contained thousands of baubles and beads to be heard. The audience immediately broke out into applause, as the sheer enormity of the time involved in such a piece was awe-inspiring. A standing ovation met Joseph as he himself took to the runway.
Other collections of the day included Serendiptiy by Kelsey McIntyre, Loft 604 by Willie Hung, Symbiose by Hinda A and finally Sukhoo Sukhoo by Frank Sukhoo. Backstage, the peppy designer noted that the fashion scene in Ottawa is "pretty good".
"It's getting there," said Sukhoo "there are hidden cliques that are really into fashion, but they lay low a little bit. But it is out there, we do have it and it's growing."
Sukhoo also added that while every designer is his favorite, certain contemporaries make more of a creative impact on his work than others. "Dianne Von Furstenberg and Zac Posen, those two stuck out" Sukhoo said, speaking about New York's Fall/Winter Fashion Week that just passed.
The final event was a charity show titled "Runway for a Better Way", in support of UNICEF. Solange Tuyishime, Canada's UNICEF ambassador, addressed the crowd before the final walk began. "Fifteen years ago I was a little girl sitting in a refugee camp…[UNICEF] gave me a life." Tuyishime continued, "So you always wonder, what does this organization do? What is UNICEF? UNICEF is me. UNICEF is the young little girl, who today is walking the runway but fifteen years ago was walking ten kilometers to look for water."
Tuyishime's inspiring story was met with a wave of applause that continued as celebrities such as Gabrielle Miller, Cassie Stewart, TL Rader, Rosey Edeh and more took to the runway. Modeling creations by Turbine, Rachel Sin, DeMOYO and Sukhoo Sukhoo, the celebs sauntered and sashayed their way back and forth.
As Fashion Week came to a close, it was hard to imagine that all of the energy and excitement had inhabited only three days. When questioned about why Rashid went to such great lengths to bring the international fashion industry to Ottawa and visa versa, he humbly explained "I'm simply extending that white brilliant runway to say that if you are talented, come and join us."
Related Articles
Share
About Author
(0) Readers Comments