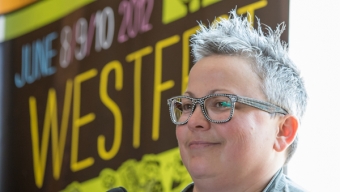 By Marc DesRosiers
The 9th edition of Westfest; the community festival celebrating music, art, and culture is the first in a series of events that will grace the National Capital this summer.
Over the weekend  of June 8th to 10th, the community of Westboro Village, its shopkeepers with great boutiques and restaurants, and sponsors, will host a festival that offers something that is a rare commodity these days, a weekend of first-rate entertainment at no cost! This street festival will provide a series of concerts, various activities, and special events extending over 12 blocks along Richmond road.
Friday night's dance party will kick off with the legendary Dr. Lee, inviting everyone to join in on the drumming session that he will lead. The Cougar Chick Tribute Band with their 7-piece band, and Silkken Laumann will also grace the stage before closing off the evening with Hidden Cameras.
Steven Page will be headlining the Domicile Main Stage on Saturday night, with opening acts to include Brock Stonefish, Liam Titcomb, and Amos the Transparent.
The "All Ottawa – All Sunday" theme will continue again this year where the main stage will host Al Woods and the Woodsmen, Ty Hall, and the Riot Police. Closing off the festival this year will be the Cooper Brothers. Earlier in the day, you won't want to miss the gospel choir performance and the Churchill School of Rock playing a series of songs from various movies.
As part of the media launch of the festival today, Elaina Martin, Westfest's founder, producer, and director, took the opportunity to recognize the contribution of its sponsors, including the Westboro Village BIA, McMillan, the Clocktower Brew Pub, Morris Home Team, and Dovercourt Recreation Centre who have enable the evolution from the early days as a parade and craft fair, known under the name of Westboro day, to what it has become today, attracting up to 100, 000 annually.
In addition to the music, the festival will host Westfest Lit, offering a storytelling component to be held at the Juniper Kitchen and Wine Bar; and  the Spoken Word, with a youth-based theme on the Domicile Stage.
More details about the festival and it's schedule can be found at their web site:
Related Articles
Share
About Author
(0) Readers Comments