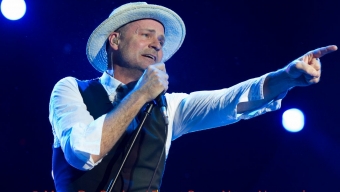 Everything about the show last night was Hip Canadiana, before it even started.  Making my way through the crowd I passed a trio sitting in Canada flag camping chairs and groups of 30-somethings partying it up, cottage-style, with plastic cups full of beer in their hands.   More than a few cannabis clouds wafted by as people prepared to relive the 90's through the hits of Tragically Hip.
There was nothing retro about the performance last night – they are as fresh as ever.  The band, fronted by Gord Downie, announced themselves by merely wandering onto the stage and started off their set amid deafening cheers with "At Transformation", a song from their latest album.  Although less familiar, it was a great introduction to the rest of the night of favourites, with a few new tunes scattered throughout, and the whole show lived up to fan expectations.  It's hard to imagine them not doing so, with Gord Downie being such an eccentric and captivating front man, unpredictable and fun.  Wearing a light grey suit with a black tie, black vest and a panama hat, his prop of the night was a white handkerchief which he used to mop his brow, slap the microphone, polish his shoes, etc.
You can tell a band has been together for a long time when they just jam and jam and jam some more at the end of a song, rocking out an extension of a favourite tune like "Gift Shop" while Gord does his thing.  These guys just mesh so well, and it's awesome to watch.
It was a top notch show, and the Tragically Hip did what the Tragically Hip do – blow away their audience with brilliant showmanship and reinforce their legacy of being the band of summertime memories.
Kelly McTavish/ Front Page News
Related Articles
Share
About Author
(0) Readers Comments