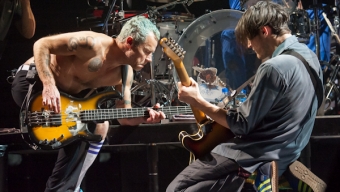 Rock and Roll Hall of Fame inductees Red Hot Chili Peppers were in Ottawa as part of the I'm With You tour, promoting the album which has received a Grammy nomination for Rock Album of the Year.
The Warner Music recording artists consisting of singer Anthony Kiedis, bassist Flea, drummer Chad Smith and guitarist Josh Klinghoffer played Scotiabank Place in Ottawa for the second of three canadian stops, the Red Hot Chili Peppers will be in Montreal on May 2nd before returning to the United States for the second leg of their tour, followed by a series of concerts throughout Europe over the summer. This is the long awaited return to the stage for the group since the Stadium Arcadium tour in 2006-07 featuring guitarist Josh Klinghoffer following the departure of John Frussciante  in 2009.
Just a few short weeks ago, the band was immortalized into the Rock and Roll Hall of Fame by comedian Chris Rock. Their lyrics & sound have always captivated a mass following, combined with some unique videos ever to grace the screen. The Chili Peppers have always been risk-takers, wether they are performing naked or wearing large light bulb costumes, the entertainment meter will be pegged and you will witness visuals that could keep you up at night.
Regarded as one of the best bass players on the planet, Michael Peter Balzary or "Flea" has to be one of the funkiest men around. He noted what him and Anthony have is special and even after playing outside of the band, his drive to keep growing has always remained constant. His unique "slap" style has influenced many just as he has been by Louis Armstrong, John Coltrane & Miles Davis.
Attendance at Scotiabank was established at 13,200, consisting of an eclectic crowd spanning the multiple generations that have been influenced by the unique sound and aphorisms that is the Red Hot Chili Peppers. Some came for the music, others for the party. Seating was not an issue as the crowd stood, danced, and sang along to classics such as 'Scar Tissue', 'Californication', and  the closing piece of the night  'Give it Away'. Songs from their 10th studio album I'm with You have been released as singles and getting much airplay including 'The Adventures of Rain Dance Maggie', a crowd favourite and the latest number one for the band on the Billboard chart. Combining old and new with a bit of party funk, RHCP delivered an intense live show running over 90 minutes.
Sleigh Bells opened for the Red Hot Chili Peppers, joining the tour and learning what it takes to play large venues. The dark, backlit stage provided an appropriate setting for the mystical fusion of drum beats, fuzzed guitars and synth-pop, adding to the enigma that is Sleigh Bells…
RHCP Setlist
Encore:
Related Articles
Share
About Author
(0) Readers Comments