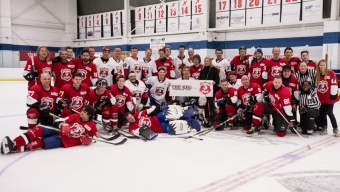 By Marc DesRosiers
As part of JUNO week activities, the fourth annual JUNO Cup was held at the Steve Yzerman arena. This "Clash of the Titans" event is a celebrity hockey game in support of MusiCounts, a music education charity.
While the game is intended to be a friendly event where former NHL players play against Canadian artists and celebrities, this was a great opportunity to see legends of  hockey and music display their skills on the ice. The NHL Greats team, led by Brad Marsh, offered a demonstration of teamwork and prowess, even after several years away from the game. Not to be outdone, the Rockers, led by Jim Cuddy of Blue Rodeo showed a lot of heart and determination, never giving up and fighting to the end to try and tie the game.
In the end the NHL Greats took this one but an honourable mention goes out to the Rockers who trained hard, to prepare for this match-up. There were impressive saves by goalie Mike Boyd, some great puck handling by Kelly Loder and veteran player Sam Roberts who, according to the roster, comes in at a solid 6'7" and weighing 274 pounds. Showing no fear, and not willing to back down, Kellie Loder took on bad boy Troy Crowder in a slugfest that ended with smiles all around. Big Classy a.k.a. Classified went all out this year with an intensive training program and suiting up in brand new gear for the occasion. Ottawa was well represented by Matt Sobb and Steve Marriner from Monkey Junk. Honourable mentions go out to Kellylee Evans for donning skates for this event and for her great rendition of the National Anthem worthy of a Scotiabank NHL game.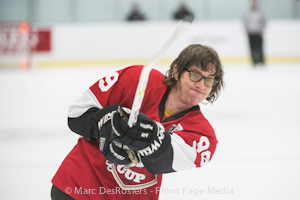 NHL Greats lineup consisted of Gary Roberts (Calgary Flames); Claude Lemieux (Montreal Canadiens); Paul Coffey (Edmonton Oilers); Boyd Devereaux (Detroit Red Wings & Toronto Maple Leafs); Brad Dalgarno (New York Islanders); Troy Crowder (New Jersey Devils)' and ex-Ottawa Senators players Jason York, Brad Marsh, Laurie Boschman and Shaun Van Allen.
Lining up for the Canadian rockers were Jim Cuddy (Blue Rodeo); Devin Cuddy; Sam Roberts; Steve Marriner and Matt Sobb (Monkey Junk); Luke Doucet; Classified; Barney Bentall; Dustin Bentall; Chris Murphy and Andrew Scott (Sloan); Curtis and Brad Rempel (High Valley); Kevin Parent; Jay Bodner (Eagle & Hawk); Vince Cranley (Feist/Stars); David Francey; Kellie Loder; Matt Barber; Menno Versteeg (Hollerado); Sean Dean (The Sadies); Tyler Armes (Down With Webster); Chris Page (Camp Radio); Kendal Carson; and AJ Johnson (Cuff the Duke).
Related Articles
Share
About Author
(0) Readers Comments