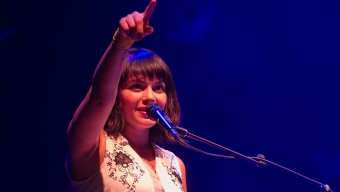 By Marc DesRosiers
Not to be outdone by the bands playing the other stages, Norah Jones held strong and rewarded the fans who stuck with her through the Main Stage performance at the RBC Royal Bank Bluesfest.
Playing both the guitar and piano, the sultry vocalist played music from her fifth studio album "…Little Broken Hearts" before crooning renditions of fan favourites with the singular voice that is both serene and entrancing. The stage was a simple but elegant affair, with a combination of bird shapes donning the stage and well planned lighting arrangements. The festival has been privy to a broad range of music from electronic, rap, and blues to rock, but last night called for contemplation and reflection.
Born in New York City, the daughter of Ravi Shankar grew up in Texas with her mother where she developed her unique blend of jazz and traditional vocal pop with hints of bluesy country and contemporary folk. The lure of the folk coffeehouses and jazz clubs in New York was the turning point in her musical career,  inspiring her to write her own songs.  In 2002 she released her first album "Come Away with Me". In 2004, Jones released her highly anticipated follow-up album "Feels Like Home" mixing '70s singer/songwriter-style tracks with blues, country, and her own mellow take on piano jazz. In 2007 she released a studio album  "Not Too Late" followed by "The Fall" in 2009. In the same year, Jones provided vocals for Danger Mouse (aka Brian Burton) for Italian composer Daniele Luppi's project "Rome". Burton returned the favor in 2012 by producing and co-writing the songs on Jones' fifth studio album, Little Broken Hearts.
The combination of her striking beauty and the fact that she is the daughter of an internationally renowned musician has at times, left Jones defending her music from those who  might have dismissed her as just another pretty face. Last night was all about her music and while some may have preferred a livelier stage presence, her talent shone through, dismissing any criticism about the performance.
Setlist
Say Goodbye
It's gonna Be
Chasing Pirates
Take it Back
She's 22
Little Broken Hearts
All a Dream
4 Broken Hearts
Black
It Must Have been the Roses (Grateful Dead cover)
Out on the Road
Miriam
Happy Pills
Don't know why
Sinkin' Soon
Come Away with Me
Stuck
Lonestar
Sunrise (encore)
Related Articles
Share
About Author
(0) Readers Comments