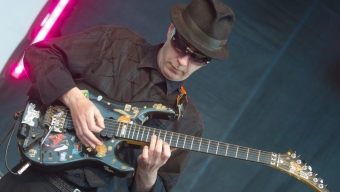 By Lenny Wu
The threat of rain loomed as the evening was set to get underway. With dark clouds on the horizon and lightning off in the distance, the sounds of African percussions, led by Dr Lee, chased the clouds away and let the evening unfold.
On stage, the Cougar Chicks Tribute band got things underway with a high-energy show playing pop,  rock, and R&B music as the crowd started to make their way to the festival.
Silkken Laumann, the alter-ego collective combining electronic/dance/experimental/pop  music followed. The 3 member group from Ottawa, consisting of Rolf Klausener (lead vocals), Pat Johnson (drummer) and Adam Saikaley (keyboards) was formed in 2011. Their performance at Westfest brought beats to dance to. Klausener explained that they perform to "covers we never heard." At times, the sounds of the keyboards and drums were brooding. Their performance was energetic and kept the crowd dazzled.
The Hidden Cameras were Friday night's headliner. It's been awhile since the Toronto indie pop band has performed in Ottawa. The  8 member band, which includes Gentleman Reg, and drummer Dana Snell (The Bicycles & Sheezer) did not disappoint. The band wore the carre rouge (red square) in support of the Quebec student protest. During another part of their performance, the members wore red blindfolds. Overall, the band rocked the crowd with their music with songs such as "in The Na" generating a great atmosphere to begin the 2012 edition of Westfest.
Related Articles
Share
About Author
(0) Readers Comments