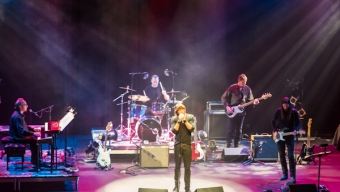 By Marc DesRosiers
On a night where many in Ottawa were staring at their television screen, tuning in to the radio, or getting the latest updates from the Internet to see how the last Canadian hockey team still standing would fare in game 7 of the first round of NHL playoff, the Shenkman Arts Centre offered an experience that ranked highly for classic music fans. With a select group of musicians assembled for the occasion, the classic Doors album L.A. Woman was brought back to life. The faithful reproduction was enough to send chills down your spine, with lead singer Clifton David's voice eerily reminiscent of the late Jim Morrison.
 Recorded in 1971, L.A. Woman is considered to be one of the greatest albums by The Doors and was also the last of six studio albums to be produced before the news of Jim Morrison's death was announced to the world on July 3rd, 1971.
Credit goes the Classic Album Live musicians that made this night a great trip down memory lane. Classic Album LIve is a concept developed by Craig Martin with the goal of producing as near as perfect of a rendition of legendary artists and their music, performed in a live setting.
Related Articles
Share
About Author
(0) Readers Comments