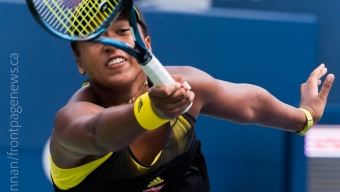 Day 4 of the main draw and Karolina Pliskova, age 25 with a WTA world ranking of #1 took to the court with a career win-loss record of 410-241, 9 career singles titles, with 3 of the titles earned in the 2017 season.
Her opponent, Naomi Osaka, a 19 year old up and comer ranked #50 in WTA world ranking and a Rogers Cup qualifier.  Osaka appears to have a bright future in the WTA, sporting a 2 handed backhand, and  according to her opponent Pliskova, a player with fast hands sporting a career win-loss record of 127-92, able to serve 190Kph.
Pliskova began the match serving up 2 aces, then fighting off a deuce point holding her serve, up 1-0 in games.
Osaka showed early confidence holding her serve for an early 1-1 tie in games. Osaka returned serve forcing a deuce point but after 2 Osaka backhand errors, Pliskova held serve to go up 2 games to 1.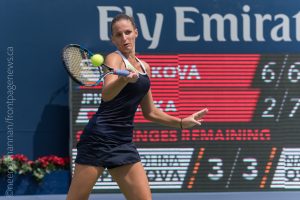 Osaka showed that she's up to the task of playing the world #1, held serve and evened the set.
At this point with the set tied at 2 games all, the momentum swung heavily in Pliskova's favour as she quickly held serve and with Osaka's backhand errors starting to mount, lost her serve and went down 2-4 in games.
Pliskova, served up 2 aces going on to hold her service game and going up 5-2 in games.  Osaka served to stay in the set, quickly going up 30-love but after another backhand error and a double fault, and with the game going to deuce, Pliskova hit a blistering forehand up the line, then forced an error, to take the first set 6 games to 2.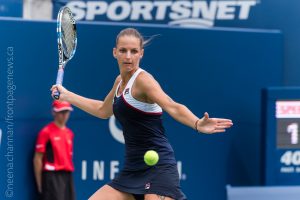 Osaka, handling the pressure well for a 19 year old held her serve as the match progressed with both players hitting hard, saving break points, holding serve, and with the level of play intensifying.  Osaka always serving to level the score, found herself serving at 5 games to 6. With the match at risk, Osaka seemed unfazed and went up 30-15 and continuing with deep and confident strokes went up 40-15 and then with a massive backhand winner won the game, leveling the set at 6-6, forcing a 7 point tiebreak. Osaka went up 6 points to 4, and with a 185Kph serve forced a return error by Pliskova winning the tiebreak and the set 7-6.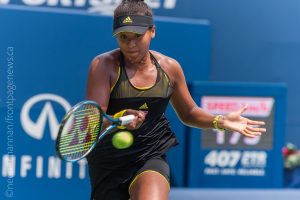 As the 3rd set got under way and with Osaka serving, she lost the first game to Pliskova, hunched down on the court with what looked like an injury.  A medical time out was called and after consulting with the court physio, Osaka retired from the match giving Pliskova the win.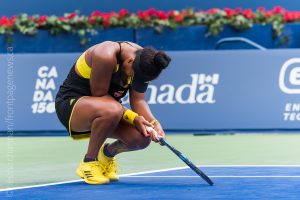 It was later confirmed that Osaka was suffering from an abdominal strain and was unable to continue.
Given the way the 2nd set took shape the 3rd set promised to be an exciting hard-fought battle with Pliskova serving up a total of 12 aces in the match, but the possibility of an Osaka upset was in the air until her early retirement from the match.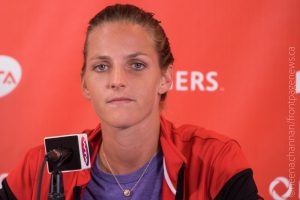 Pliskova is currently #1, but Osaka looks to be the future.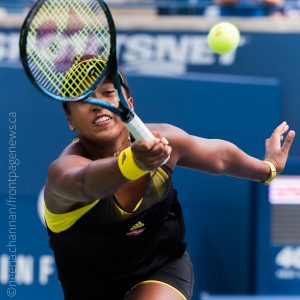 Barry Kohl
Photo credit: Neena Channan
Related Articles
Share
About Author
(0) Readers Comments