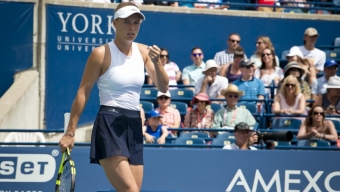 It's a beautiful sun filled semi-final day with the first match featuring Caroline Wozniacki hoping for her 6th WTA final of the 2017 season and Sloane Stephens coming back from a lengthy injury and playing only her 3rd tournament of the year. This to be followed by Simona Halep the defending 2016 Rogers Cup Champion and Elina Svitolina with 8 career WTA wins.
Caroline Wozniacki vs Sloane Stephens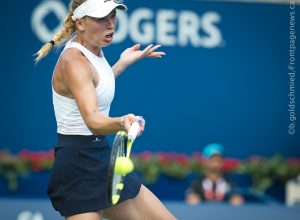 As the first match of the day got underway, Wozniacki showed great determination, solid footwork with driving forehands.  Keeping Stephens on her toes, being forced to defend numerous break points and successfully breaking her twice in the first set, Wozniacki eventually took the first set 6-2.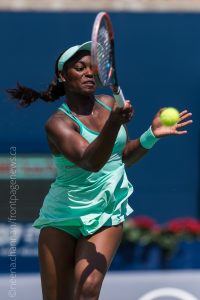 In the second set, Wozniacki continued on the attack though the set was closer than the score showed.  Both players fought hard, saved break points then with the set tied at 3-3 and Stephens serving at 30-30, forced a short ball by Wozniacki who hit a winner with a forehand up the line.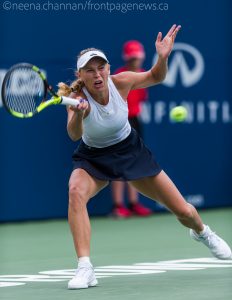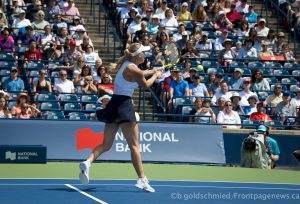 However, she then lost the next point by double faulting and hitting a backhand up the line which went out. Down 3 games to 4 Wozniacki took the next 2 games giving her the semi final win at 6-2, 6-3 and a trip to the finals of the Rogers Cup, her 6th appearance in a final in 2017.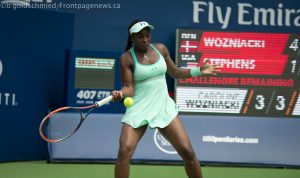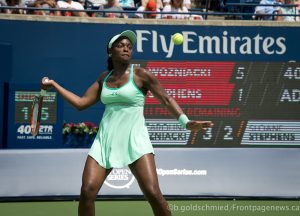 Wozniacki finished the match with 11 unforced errors compared to Stephens 41 unforced errors. Stephens in her post game interview said she was happy with how she competed throughout the tournament with no regrets while finding her form after her lengthy layoff.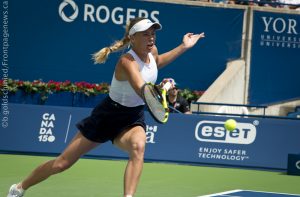 Simona Halep vs Elina Svitolina
Thanks to the rain on Friday, Halep and Svitolina both played a quarter-final and a semi-final match on Saturday.  Each had about a 5 hour rest beween their respective matches to aid in their recovery and preparation.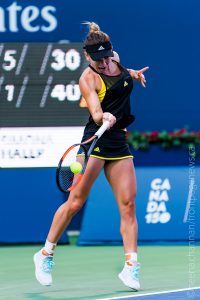 Similar to every match in the tournament to date, Halep's fan base was out in full force, flags billowing in the wind and their voices loud in support of their star.  The match began with the fans settling in for a long and competitive game between the two players.  However, they quickly watched Halep hit a wall, with Svitolina up 5-1 and serving up a blistering forehand down the line to take the first set 6-1 after only 26 minutes of play. Halep plagued with unforced errors and consulting her coach between sets needed to come out strong and minimize the unforced errors.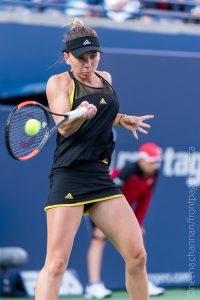 Instead, it was Svitolina who came out strong breaking Halep on her first service game of the second set. Svitolina would carry this momentum throughout the entire set, not giving ground, with only 2 break chances for Halep in the entire match and with Svitolina up 5 games to 1 showing her determination ousted Halep from the tournament to earn a spot in the final to face Wozniacki.  Svitolina recorded 16 unforced errors in the game, compared to 34 by Halep.  The entire game was completed in 56 minutes with Svitolina winning 6-1, 6-1.
The Romanian fans though significantly subdued were gracious in their loss and were appreciative of Sviotlina's masterful win.
The only complaint by some of the spectators was that the match was over so fast, they barely had time to order and drink their first beer!!!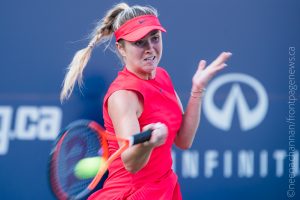 Barry Kohl
Photo credit: Brian Goldschmied, Neena Channan
Related Articles
Share
About Author
(0) Readers Comments