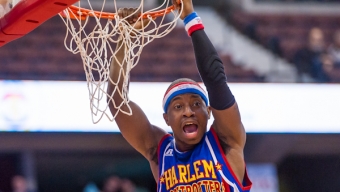 By Marc DesRosiers
The Harlem Globetrotters came to Ottawa as part of their world tour to take on the International Elite team, showcasing their ball handling wizardry, basketball artistry, and one-of-a-kind family entertainment that continues to thrill fans of all age. The Harlem Globetrotters have played more than 20,000 exhibition games showcasing their iconic talents in 120 countries and territories on six continents. As proud inductees of the Naismith Memorial Basketball Hall of Fame, the Globetrotters have entertained hundreds of millions of fans—among them popes, kings, queens, and presidents.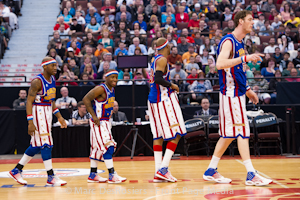 Rookies on this tour include Paul 'Tiny" Sturgess, the world's tallest basketball player at 7-8, and Jonte 'Too Tall" Hall as the shortest Globetrotter ever at 5-2. The latest incarnation of the Globetrotters also feature the top three finishers from the 2011 College Slam Dunk Contest, including reigning champ Jacob 'Hops" Tucker, sporting a 50-inch vertical leap. Tucker joins runner-up John 'Jet" Williams of UNC-Asheville and semifinalist Darnell 'Spider" Wilks from the University of Cincinnati. Missing from the roster was Fatima 'TNT" Maddox of Temple University, the team's first female player since 1993 and ninth in team history.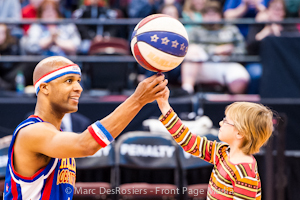 Despite the prowess displayed by the Globetrotters, the International Elite were in the lead at half-time with a score of 57-50. Two penalties provided for a four on four matchup which enabled the Elite to take the lead late in the fourth quarter but the Globetrotters came back to win it with a final score of 111-104, maintaing their winning streak dating back to March 31, 2006. Not that the score matters; the prime objective of the Harlem Globetrotters was met with everyone attending enjoying the experience and several children, who got to interact with the team, leaving with memories to last a lifetime.
The Globetrotters continue their tour throughout Ontario before moving across western Canada, finish this current tour in May with a series of games in Hawaii.
Related Articles
Share
About Author
(0) Readers Comments