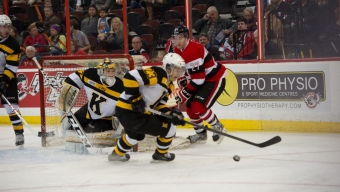 The Ottawa 67s got on the scoreboard early with a pass from Sam Studnicka (23) to Brendan Bell (27) shooting from the crease to get one past Matt Mahalak (37).
With three regular season games remaining, this bodes well for the 67s who are chasing the Niagara Ice Dogs for the 7th position in the playoff.
A hooking penalty for the 67s Tyler Hill (12) gave the Frontenacs an opportunity to tie things up but it was a second penalty by Dante Salituro (26) right after the first one, that gave the Frontenacs' Samuel Schutt (21) the opportunity to beat goalie Philippe Trudeau (29) on a bad angle shot.
At the end of the first period, the game is tied 1-1. The shots on goal register as 3 for the 67s compared to 10 for Kingston.
Kingston started the second with heavy pressure in the 67s' end. The injury to Erik Bradford (33) has left a gap in the 67s offensive. Bradford went into the boards hard following a check by Kingston's Michael Moffat (4) in the tail-end of the first period and did not return for the start of the second. Bradford sustained a leg injury and was sent for observation.
The tie was broken on a shot from Kingston's Henri Ikonen (23) who out maneuvered Trudeau at 9:13 in the second. A brawl ensued at 12:49 of the second, after Kingston's Loren Ulett hit the 67s Ryan Van Stralen (8) with a slash to the back of the neck, followed by a takedown of Mack Lemmon (80) by Troy Henley (3).  This left the 67s with two 5 minute penalties, a game misconduct for Van Stralen, and a game expulsion for Henley. The five on three enabled the Frontenacs' Henri Ikonen (23) to score his second goal of the game.
At the end of the second, the Kingston Frontenacs lead the Ottawa 67s 3 to 1. Shots on goal are 28 for Kinston compared to 12 for Ottawa.
The third period started with 15 players on the bench for Ottawa following injuries and penalties; where Kingston goes with 16 as Mack Lemmon (80) did not return following the takedown in the second.
The Frontenacs Ryan Kujawinski (17) scored a goal after Ottawa's Brett Gustavsen (25) was checked hard against the boards by Henri Ikonen (23) and was left limping back to the bench.
A shot from the crease by Ottawa rookie Travis Konecky (17) gives him the 25th of the season and brings the 67s back down by two with 6 minutes to go.
In the end, there will be no points for the 67s tonight. They could not capitalize on the two consecutive power play advantage offered up by Kingston at the end of the third. Their playoff chances, while not gone, have become harder, and will depend on how they fare in the last 3 games of the regular season.
Images courtesy of Mike Proulx
Game Summary courtesy of OHL
GAME SUMMARY 19789
Tuesday, March 11, 2014 – Status: Final
as of Tue March 11, 2014 11:39 PM Eastern Standard Time
| | | | | |
| --- | --- | --- | --- | --- |
| SCORING | 1 | 2 | 3 | Total  |
| Kingston Frontenacs | 1 | 2 | 1 | 4 |
| Ottawa 67's | 1 | 0 | 1 | 2 |
| | | | | |
| --- | --- | --- | --- | --- |
| SHOTS | 1 | 2 | 3 | Total  |
| Kingston Frontenacs | 10 | 18 | 7 | 35 |
| Ottawa 67's | 3 | 9 | 16 | 28 |
VISITORS: KINGSTON
PLAYERS
Position
 G
 A
+/-
PIM
2
 McEneny, Evan
D
0
1
-1
0
C
4
 Moffat, Michael
D
0
1
+1
2
A
5
 Vainonen, Mikko
D
0
2
0
0
9
 Verbeek, Ryan
LW
0
0
0
0
14
 Ulett, Loren
RW
0
0
-1
2
17
 Kujawinski, Ryan
C
1
0
0
0
18
 Polesello, Robert
LW
0
0
-1
0
20
 McKeown, Roland
D
0
0
0
0
21
 Schutt, Samuel
RW
1
0
+1
0
A
22
 Greenaway, Darcy
C
0
1
0
0
A
23
 Ikonen, Henri
LW
2
0
+1
0
24
 Doggett, Slater
LW
0
1
0
7
55
 Watson, Matthew
D
0
0
0
0
67
 Crouse, Lawson
LW
0
0
0
2
80
 Lemmon, Mack
RW
0
0
0
0
81
 McGlynn, Conor
C
0
0
-1
5
96
 Watson, Spencer
RW
0
2
+1
0
TEAM
0
0
TOTAL
4
18

HOME: OTTAWA
PLAYERS
Position
 G
 A
+/-
PIM
3
 Henley, Troy
D
0
0
-1
5
6
 Duchesne, Jonathan
D
0
0
-1
0
A
8
 Van Stralen, Ryan
LW
0
0
-1
7
9
 Abou-Assaly, Andrew
LW
0
0
0
0
12
 Hill, Tyler
LW
0
0
0
2
17
 Konecny, Travis
C
1
0
0
0
18
 Davis, Taylor
D
0
0
+1
0
21
 Middleton, Jacob
D
0
0
+1
0
22
 Urbanic, John
RW
0
0
0
5
23
 Studnicka, Sam
C
0
1
0
5
24
 Guy, Nevin
D
0
0
0
0
25
 Gustavsen, Brett
LW
0
0
-2
0
26
 Salituro, Dante
C
0
0
0
2
C
27
 Bell, Brendan
LW
1
0
+1
0
28
 Brown, Connor
LW
0
0
+2
0
33
 Bradford, Erik
C
0
0
0
0
A
36
 Fielding, Taylor
RW
0
0
0
0
40
 Lintuniemi, Alex
LD
0
0
0
0
TEAM
0
0
TOTAL
2
26

NOTE: Players listed in Italics are the starting lineup.

Scoring
1. OTT B. Bell, (24) (S. Studnicka), 4:44
1. KGN S. Schutt, (25) (M. Vainonen, D. Greenaway), 18:23 (PP)
2. KGN H. Ikonen, (23) (S. Doggett, M. Vainonen), 9:13
2. KGN H. Ikonen, (24) (S. Watson, E. McEneny), 12:53 (PP)
3. KGN R. Kujawinski, (22) (S. Watson, M. Moffat), 8:04
3. OTT T. Konecny, (25) , 13:55

Penalties
1 – OTT T. Hill, 13:34 – Hooking, 2 min (PP)
1 – OTT D. Salituro, 16:28 – Tripping, 2 min (PP)
2 – KGN C. McGlynn, 7:36 – Fighting, 5 min
2 – OTT J. Urbanic, 7:36 – Fighting, 5 min
2 – KGN L. Ulett, 12:39 – Roughing, 2 min
2 – OTT T. Henley, 12:39 – Match-Att/Deliberate Injury, (21.1) 5 min (PP)
2 – OTT R. Van Stralen, 12:39 – Instigator, 2 min
2 – OTT R. Van Stralen, 12:39 – Fighting, 5 min (PP)
2 – OTT R. Van Stralen, 12:39 – Misc-Instigating, (46.10) 0 min
2 – OTT R. Van Stralen, 12:39 – Game Misc-Agg., (46.2) 0 min
3 – KGN S. Doggett, 8:37 – Roughing, 2 min (PP)
3 – KGN S. Doggett, 8:37 – Fighting, 5 min
3 – OTT S. Studnicka, 8:37 – Fighting, 5 min
3 – KGN L. Crouse, 16:10 – Cross Checking, 2 min (PP)
3 – KGN M. Moffat, 18:15 – Slashing, 2 min (PP)

| | | | |
| --- | --- | --- | --- |
| | PP | PIM | PTS |
| Kingston Frontenacs | 2 / 4 | 18 min / 6 inf | 4 G + 8 A = 12 Pts |
| Ottawa 67's | 0 / 3 | 26 min / 9 inf | 2 G + 1 A = 3 Pts |

Arena
Stars of the Game
Officials
Off-Ice Officials
Canadian Tire CentreAttendance: 4917
Start: 7:06 PM
End: 9:28 PM
Length: 2:22
1. KGN – 23 Henri Ikonen
2. KGN – 96 Spencer Watson
3. OTT – 27 Brendan Bell
Scott Ferguson (35), Referee
Sean Reid (26), Referee
Dave Borden (48), Linesman
Pat Smith (64), Linesman
Chris Kelly, Score Keeper
Marc Charlebois, Online Scorekeeper
Jeff Bracken, Timekeeper
Jeff Johnston, Video Goal Judge
Related Articles
Share
About Author
(0) Readers Comments