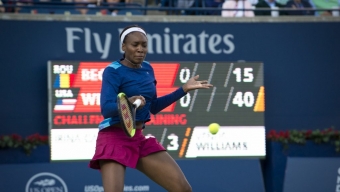 Day 1 of main draw and Venus Williams, being  on tour for  22 years as a pro has finally notched her 1st ever win in Toronto against Irina-Camelia Begu with a 6-1, 3-6, 6-3 win in a hard fought match by both players.
Williams breezed through the first set in 28 minutes hitting massive and deep forehands keeping Begu scrambling and forcing error after error. Williams took the first set in total control and showed confidence and resolve.
Begu started the second set with a hold and much relief to her confidence and showed that she was not about to hand this match over to Williams without a fight.  At 1 all in the 2nd, Venus breaks Begu for a 2-1 lead, but from this point on Begu found her form, sending Williams from corner to corner, forcing errors and breaking back then  going on to take the 2nd set 6-3.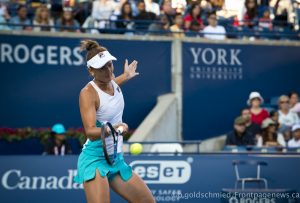 As the third set began, with the stadium about 90% full with many Romanian flags visible, the fans seemed divided between Williams and Begu, cheering every point by either player, thrilled that this had turned into a highly competitive, hard hitting match with both players feeling the pressure, saving many break points, hitting with confidence and resolve, determined to fight for the victory. But there can only be one winner.
Begu going down an early break in the third, leveled the match at 3 all. After an hour and a half rain delay and Venus serving at 3 all, down 15-40, came back to hold serve in an amazing 7th game.   A game that may have broken Begu's spirit as she had 2 break points and could have changed the course of the match. Both players fought to hold serve, Begu's gets broken.
Williams served for the match at 5-3 went up 30-love, with Begu still fighting hard to stay alive. At 40-30, Williams' 2ndmatch point drove a massive forehand creating a Begu return error. Williams raised her hands in victory and gave the fans that twirl,wave and smile that we all know so well.
After a walkover by Williams in the first this turned into a fast paced competitive and enjoyable match leaving the fans satisfied, happy for Venus and appreciative of Begu for her fight.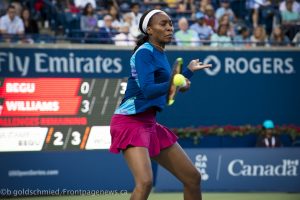 In Williams post game interview she said that the rain delay gave her the opportunity to reflect, evaluate her game and relax.
Barry Kohl
Photo credit: Brian Goldschmied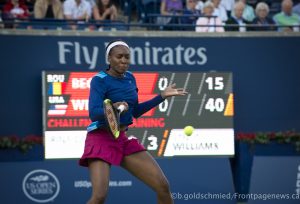 .
Related Articles
Share
About Author
(0) Readers Comments